Blog, Canning & Preserving
Earl Grey Pear Butter [Small Batch Recipe]
This small batch recipe for pear butter is enhanced with a touch of Earl Grey tea - the perfect pairing for early autumn!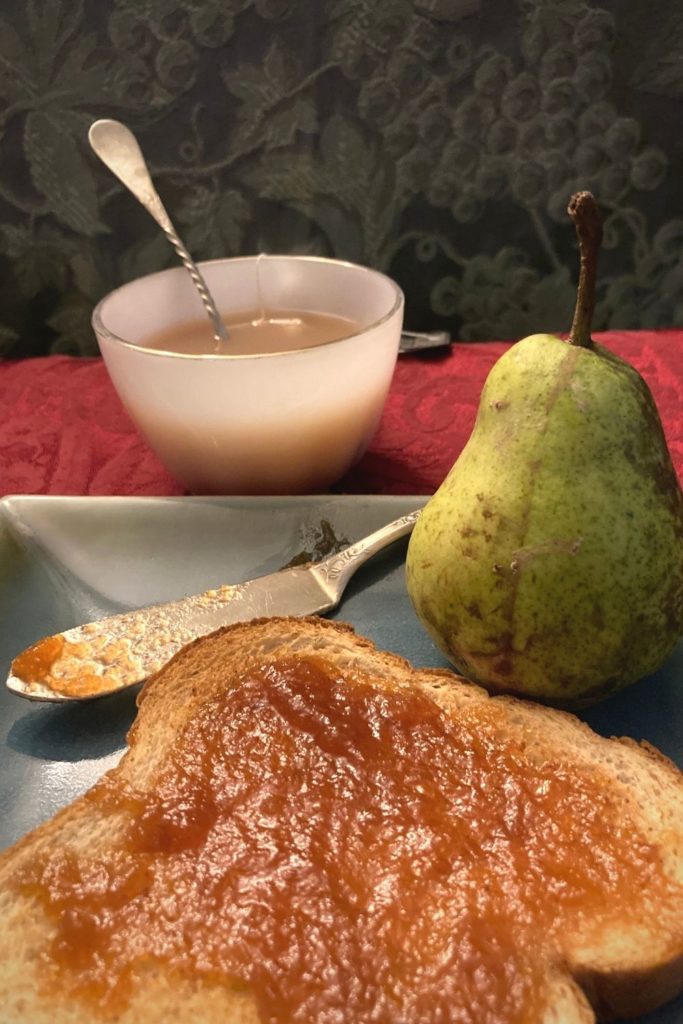 Every year, I'm lucky enough to glean a grocery bag or two of pears from a friend's old trees and so pear recipes have become a fun source of exploration. Without fail, some of the pears start to go bad before I can get to the fancy recipes I dreamed of creating and get turned into pear vinegar, pear cordial, or pear butter.
Since I got tired of "plain old" pear butter, I decided to take it up a notch this year. These pears are soft, sweet, and usually fully ripe by the time I get to them, and the usual cinnamon-heavy spice combination was not quite doing it for me. I decided to give Earl Grey tea a try, and I'm so glad that I did.
Thanks to my Sipsby obsession last fall, I've been working through all kinds of delicious teas even as they threaten to take over my kitchen. Earl Grey is one of my all-time favorites and I thought that the bergamot would bring a lovely note to compliment the pears. I was right.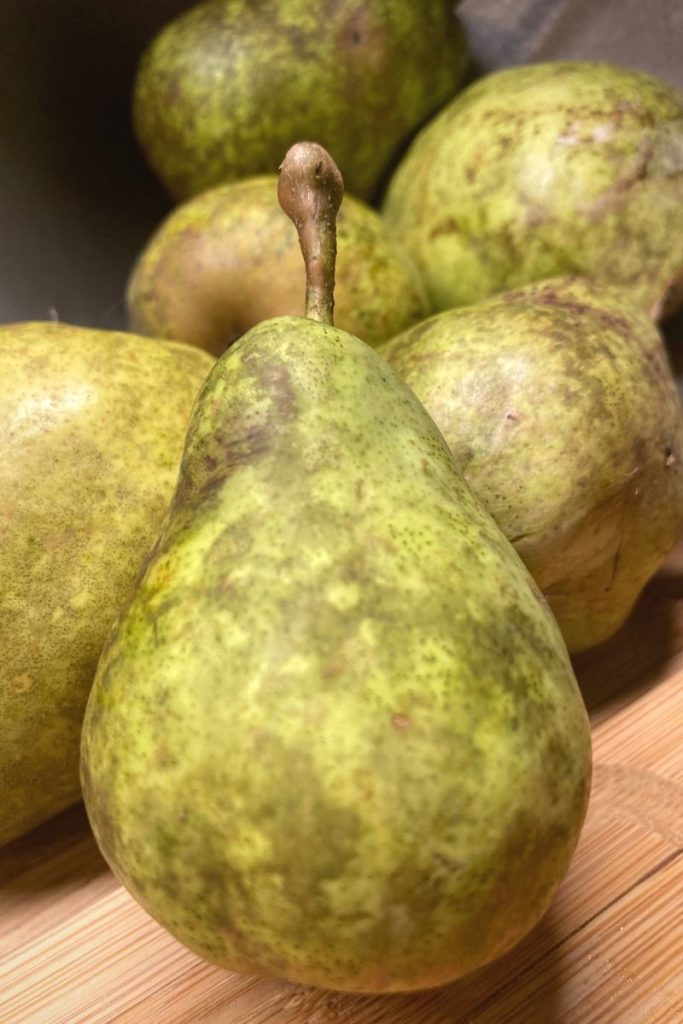 This is the first batch of pear butter that I've made since I was given my Memaw's chinois, or potato ricer, as she called it. This tool is hardy and useful, and I'll probably get some good use out of it in my kitchen!
If you don't have a chinois like this, a standard food mill will of course work, or you can set a strainer over a bowl and use a wooden spoon and elbow grease to squeeze out all of the pear goodness!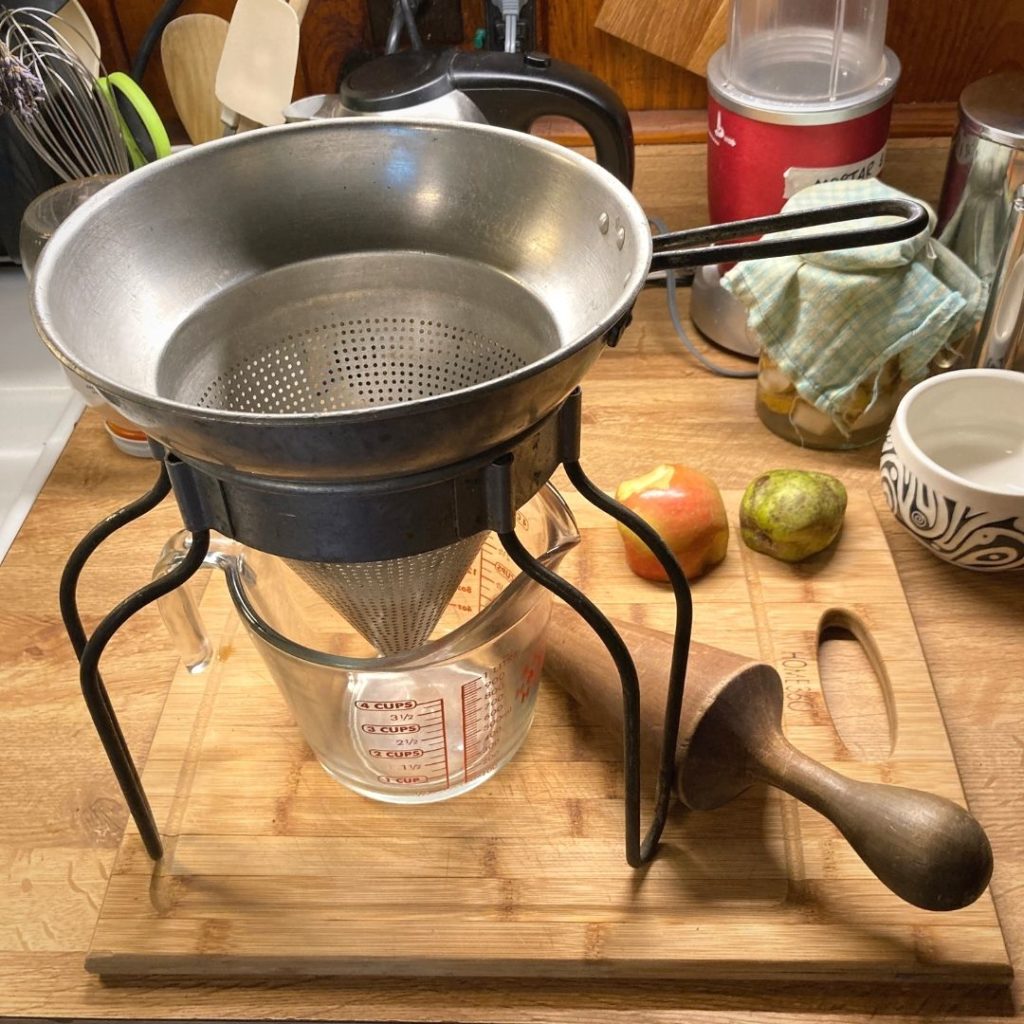 This batch of pears was a small one – unfortunately, her trees are ailing this summer. Caring arborists are on the job, so we will all hopefully have healthy trees and fruit for years to come.
This recipe is for a small batch but it can be scaled up easily! I ended up with two 4oz jelly jars of pear butter canned and stored, and about 1oz left over to use on toast for the next few days.
If you need a primer on canning, get Homespun Seasonal Living's Guide to Jam & Jellies. You might also enjoy Homemade Living: Canning & Preserving with Ashley English: All You Need to Know to Make Jams, Jellies, Pickles, Chutneys & More.
Print
Earl Grey Pear Butter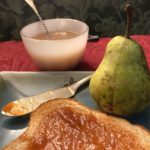 The dark notes and floral aroma of Earl Grey tea makes a lovely compliment to the lightly sweet pears. Delight in the thick, sweet pear butter that is a natural fit for teatime toast.
Author:
Yield: about

10oz

1

x
Ingredients
2

–

3

pounds of pears, chopped

3

cloves

2

allspice berries

1 cup

of apple juice (or pear juice if you have it!)

1 tbsp

of lemon juice

1

bag of Earl Grey tea

2/3 cup

of sugar (added to taste)
Instructions
First, chop your pears and put them into a large pot, skin and cores and all. Add the apple juice, cloves, allspice, lemon juice, and a bag of earl grey tea to the pot.
Bring it to a boil, reduce to a simmer, and cook until the pears are soft. This can take about 30 minutes or more.
Remove it from the heat and let it cool. Mash the pears. Remove the tea bag and pour the pears into a food mill and reserve the juice and puree in a large bowl.  Toss out the seeds, stems, and other pieces of pear left in the mill.
Measure how much pear puree you have and pour it into a thick-bottomed pot. Add 1/4 to 1/3 cup of sugar for each cup of purée and stir.
Heat the purée at medium heat and allow it to reduce, stirring often to keep it from sticking or burning. Keep it cooking until it is thick enough to trace shapes with the spoon and see it on the bottom of the pan.
Prepare your canning jars while the pear butter is cooking down. Sterilize the jars by letting them rest in a gently boiling pot of water for ten minutes. If you are preparing this recipe for the water bath canner, put new canning lids in a bowl and pour boiling water over them.
Ladle the hot pear butter into the hot, sterilized jars, leaving a 1/4 inch of headspace. Wipe the edges of the jars and seal them with the hot lids. Use the hot water bath for 10 minutes to make sure they are sealed. If you are saving this as a freezer jam or something to be stored in the fridge and used quickly, you can use clean, sanitized jars and any lids you like.
Whatever method you use, make sure you label your pear butter clearly with the date by which it should be used.
Get updates from Pixie's Pocket: brewing and herbs in your inbox:
Hi! I'm Amber Pixie, and this is my site. Enjoy the recipes, information, posts, and please feel free to message me if you have questions!