Blog, Canning & Preserving, Recipe Box, Sweet Stuff Recipes
Pear Butter Recipe – Small batch from windfall fruit
I have a dear friend who lives but 10 minutes away, and she has a delicious problem – she has three old, stately pear trees that just put out far too much fruit for her to handle!  The good friend that I am, I am happy to relieve her of her difficult burden. Last…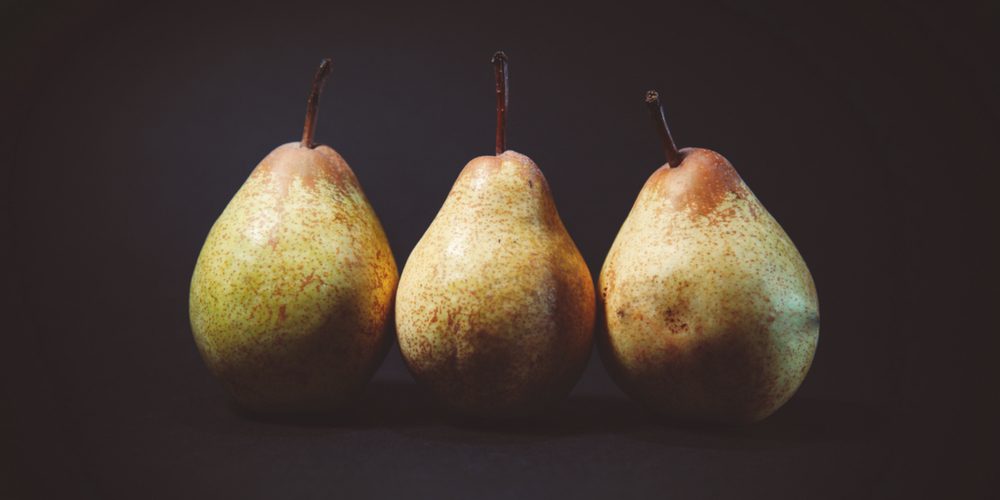 I have a dear friend who lives but 10 minutes away, and she has a delicious problem – she has three old, stately pear trees that just put out far too much fruit for her to handle!  The good friend that I am, I am happy to relieve her of her difficult burden.
Last fall, when I picked pears, I was dutiful and busy and made pear cordial, pear vinegar, and pear butter! I cannot tell a lie – this year (2017), I was so preoccupied with other activities that by the time I remembered that I had picked a bunch of pears, most of them had turned to a sickly sweet mush. Whoops!
From the few pears that escaped the icky fate of their fellows, I whipped up a small batch of the pear butter I made last year. It didn't make a ton, but the pear butter we made is quite tasty and worth the minimal effort it takes to make!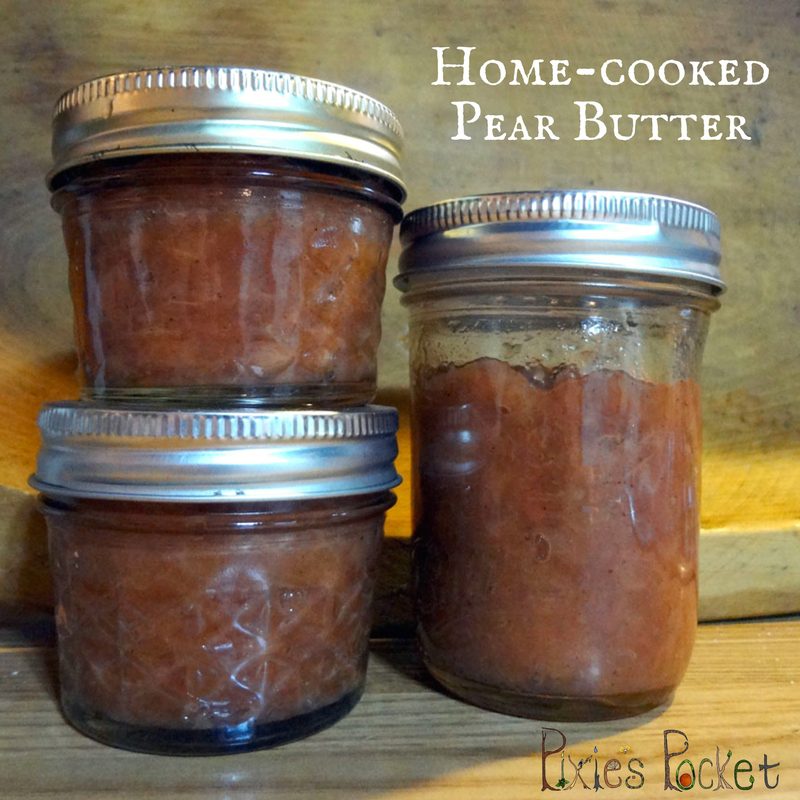 Pear Butter Recipe
This is my technique for an unplanned, small batch of pear butter. This recipe can easily be adapted for apple, pumpkin, peaches, or any other fruit (here's my Damson Pear & Muscadine Butter).
Ingredients
4-6 pears, chopped into chunks
1 teaspoon lemon juice (or orange, lime, or other citrus fruit)
1/2 cup apple juice
Seasonings: Cardamom, cloves, ginger – add whatever you like!
Instructions
First, wash and dice your pears into small chunks.  Reserve your peels and cores for vinegar-making!
Add the pears, apple juice, and citrus juice to a cooking pot. Let it come up to a boil on low to medium heat.
Turn down the heat to a simmer, add the seasonings and stir.
Let it simmer on a very low heat until it is the desired consistency and flavor, stirring every 15 minutes so it doesn't stick.
All that's left to do is store it or use it. We filled a few small 4oz jelly jars to the brim and filled most of an 8oz jar for immediate use. Next, wipe them down, label them, and store them in the freezer once the pear butter is cooled to room temperature.
Pear butter is great on toast, with peanut butter, on pancakes, or warm it to drizzle over cheesecake. Seriously! If you haven't tried warmed jelly or fruit butters on ice cream, you're missing out!
Get updates from Pixie's Pocket: brewing and herbs in your inbox:
Hi! I'm Amber Pixie, and this is my site. Enjoy the recipes, information, posts, and please feel free to message me if you have questions!