Canning & Preserving, Fermentation Recipes, Fermented Food, Miso Recipes, Recipe Box, Savory Snack Recipes, Spices and Condiment Recipes
Misozuke: Miso Fermented Vegetables Recipe
Misozuke is simple to make and well worth it! Delicious veggies fermented in miso paste make for tasty treats.

I have a dear friend who has been an inspiration to me and to my culinary and herbal pursuits for many years now. When I mentioned that I was a fan of miso, she launched into a tale about her experiences as a cook in a macrobiotic kitchen at a yoga retreat. The retreat kitchen was stocked with one-gallon buckets of miso. One of those buckets would be opened and small slivers of carrots, radish, and other firm veggies would be shoved down into the rich, salty miso. They'd stash that bucket away for a while and then use those miso-fermented veggies later in salads, stir-fry or just to snack on.
That was the first time I'd ever heard of misozuke – the fermenting of vegetables in miso. That one little idea was enough to get me intrigued, and so when I had an abundance of Miso Master Miso to play with, this was one of the projects I jumped on.
Want your own miso to experiment with? Scroll down and enter to win a one-pound tub of Organic Mellow White Miso from Miso Master Miso! (contest over)

Ingredients:
Miso-doko – this is the mixture that the veggies go into.
Vegetables
For this recipe, I first used one small daikon radish. Half was sliced thin and the other half julienned so that I could test the textures. Other good veggies to use include: rutabaga, turnip, carrot, beets, rhubarb, cucumber, scallions, broccoli, garlic cloves, and even stems from leafy veggies – basically, anything with some substance to it.
How to make Misozuke
Mix the miso-doko ingredients together well and set it aside.
Prepare your veggies of choice by slicing them into strips. Don't dice them too fine! If the veggies are wet, pat them down with a towel before proceeding.
Spread a layer of the miso-doko into a small jar or pyrex dish. Lay the sliced veggies on the miso bed and cover them with the rest of the miso-doko blend. Depending on how much you are making, you can layer in that order until complete.
Cover the dish. Let it sit at room temperature for as little as 30 minutes or as much as a few weeks. Experiment with tasting a piece every few days, just so that you can observe the changes in the fermenting veggies.
To serve the misozuke, remove them from the miso-doko and give the veggies a gentle rinse if you wish.
Don't leave your misozuke vegetables in the fridge too long. After about a month, the veggie strips become mushy and they lose their own flavor.
These are delicious to eat on their own, or dice and add to marinades, salads, stir-fry, or add them to sushi!
Here are a few other resources:
Misozuke – Miso Cultured Pickles from Phickle
Miso-Pickled Cucumbers from Not Eating Out in NY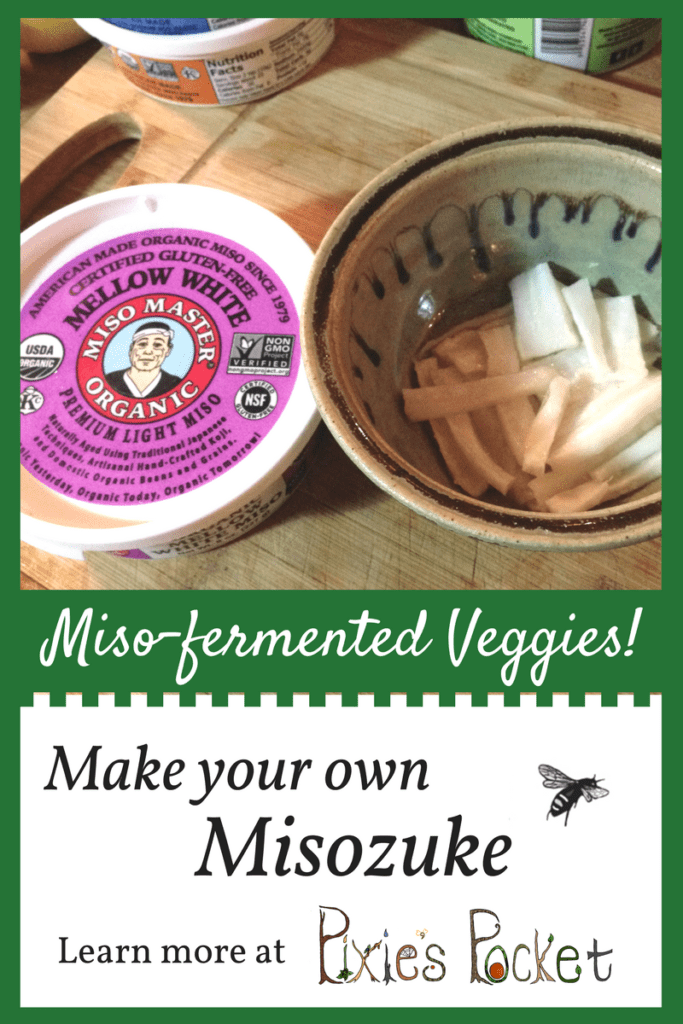 Get updates from Pixie's Pocket: brewing and herbs in your inbox:
Hi! I'm Amber Pixie, and this is my site. Enjoy the recipes, information, posts, and please feel free to message me if you have questions!