Asheville, Blog, Miso Recipes, Recipe Box
Behind the scenes: a tour of Miso Master
There are few foods that are as nourishing to me as Miso. I used to be a meat and 'taters kind of girl, with little to no green, raw, or fermented foods in my diet. When a friend invited us to try sushi for the first time, Eric and I were dubious and didn't expect to find…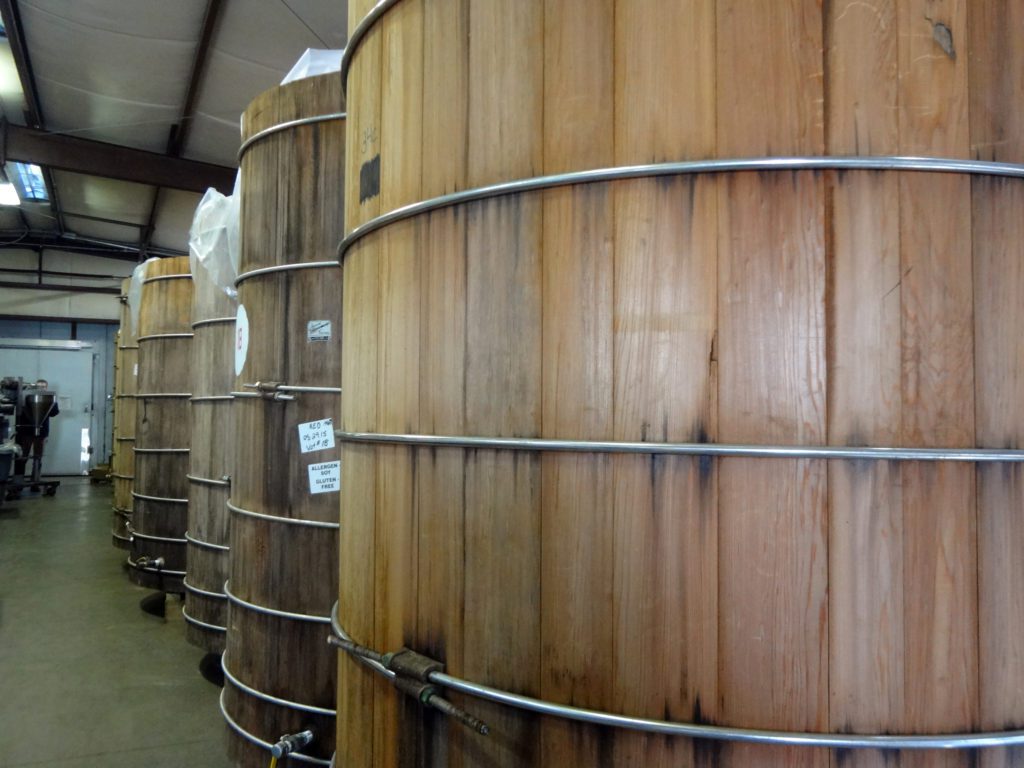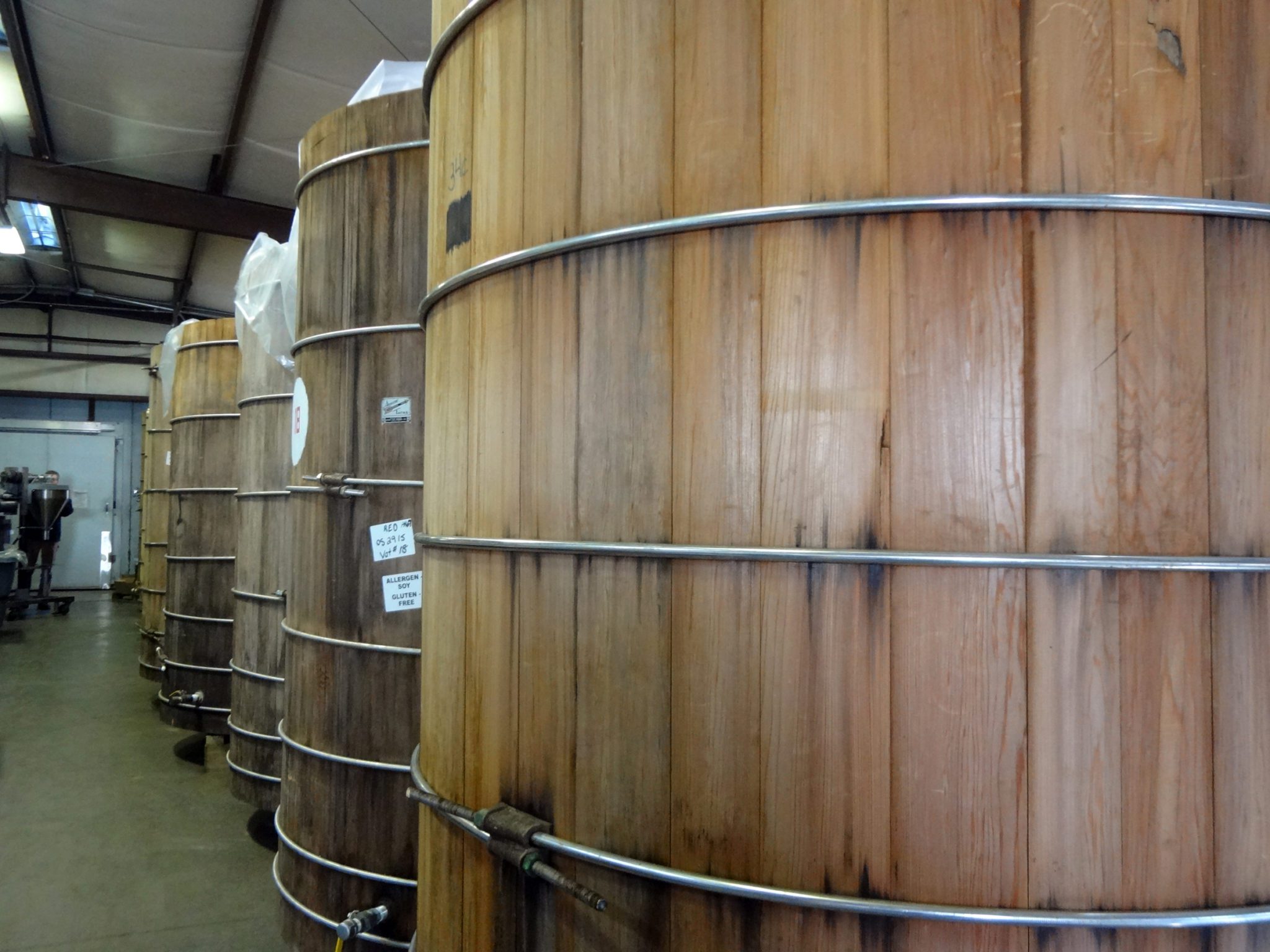 There are few foods that are as nourishing to me as Miso.
I used to be a meat and 'taters kind of girl, with little to no green, raw, or fermented foods in my diet. When a friend invited us to try sushi for the first time, Eric and I were dubious and didn't expect to find anything we'd enjoy on the menu. I didn't think I liked fish, and I certainly didn't know what to do with the weird piles of green seaweed! It was with a breath of relief that I reached for the bowl of broth on the table, figuring that soup was something familiar. From that very first taste of miso soup from the broad plastic spoon, I was in love!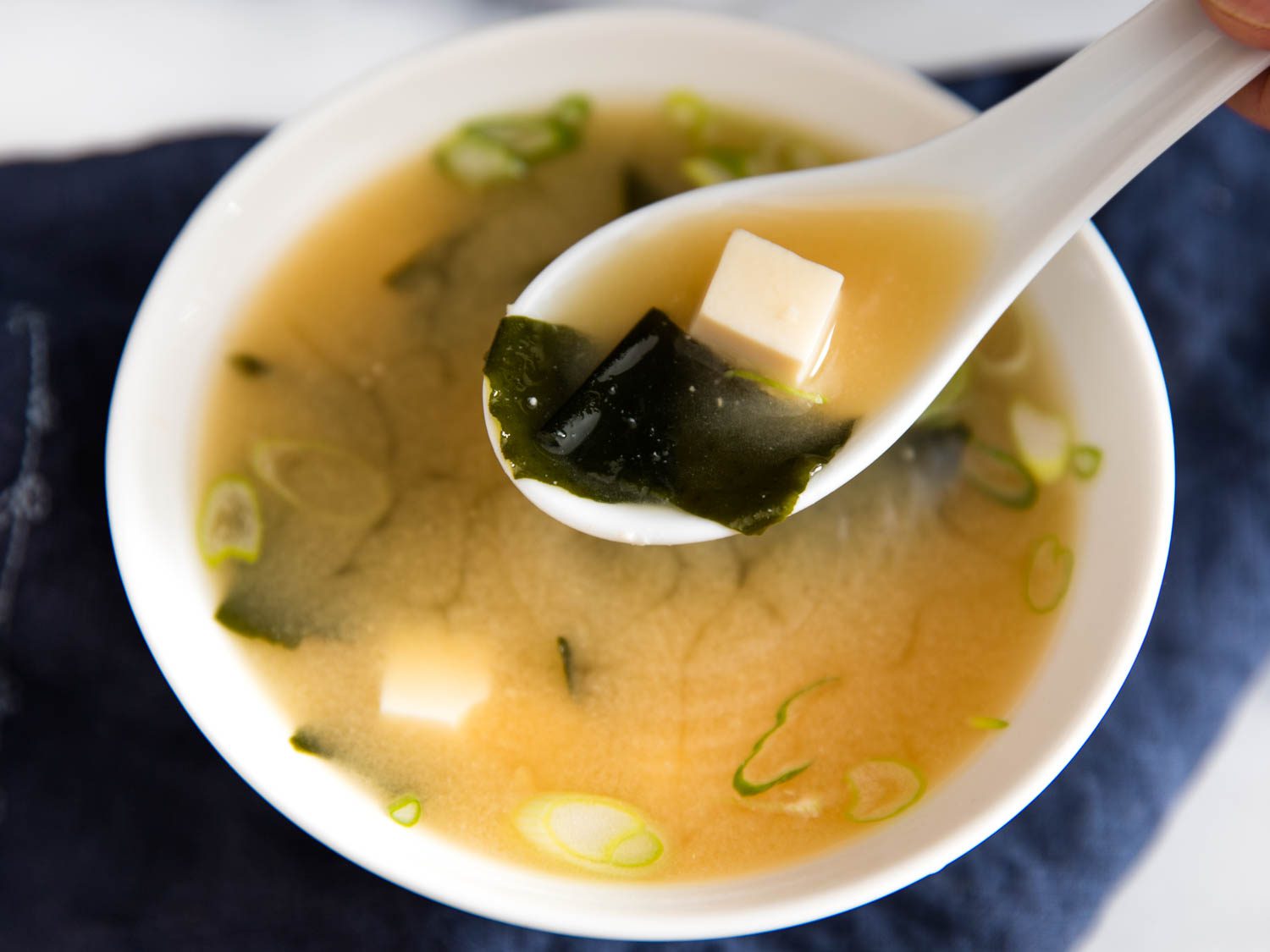 The rich, deep flavor of the miso did new and exciting things to my taste buds – the depth of the umami, the salt, the surprisingly delicious squishy seaweed, and slightly mushy tofu cubes all blended together into a delightful perfection. I haven't looked back since.
Ever since that night I've been a fan of Japanese cuisine, even going so far as to make pitiful-looking (but palatable) sushi rolls in my own kitchen. Miso is a stronghold I return to, a staple in my kitchen. I reach for miso soup instead of chicken soup when I'm sick. If I've had too much to drink the night before, a miso soup breakfast sets me right. Miso makes a versatile ingredient, great in salad dressings, marinades, and oh, so much more.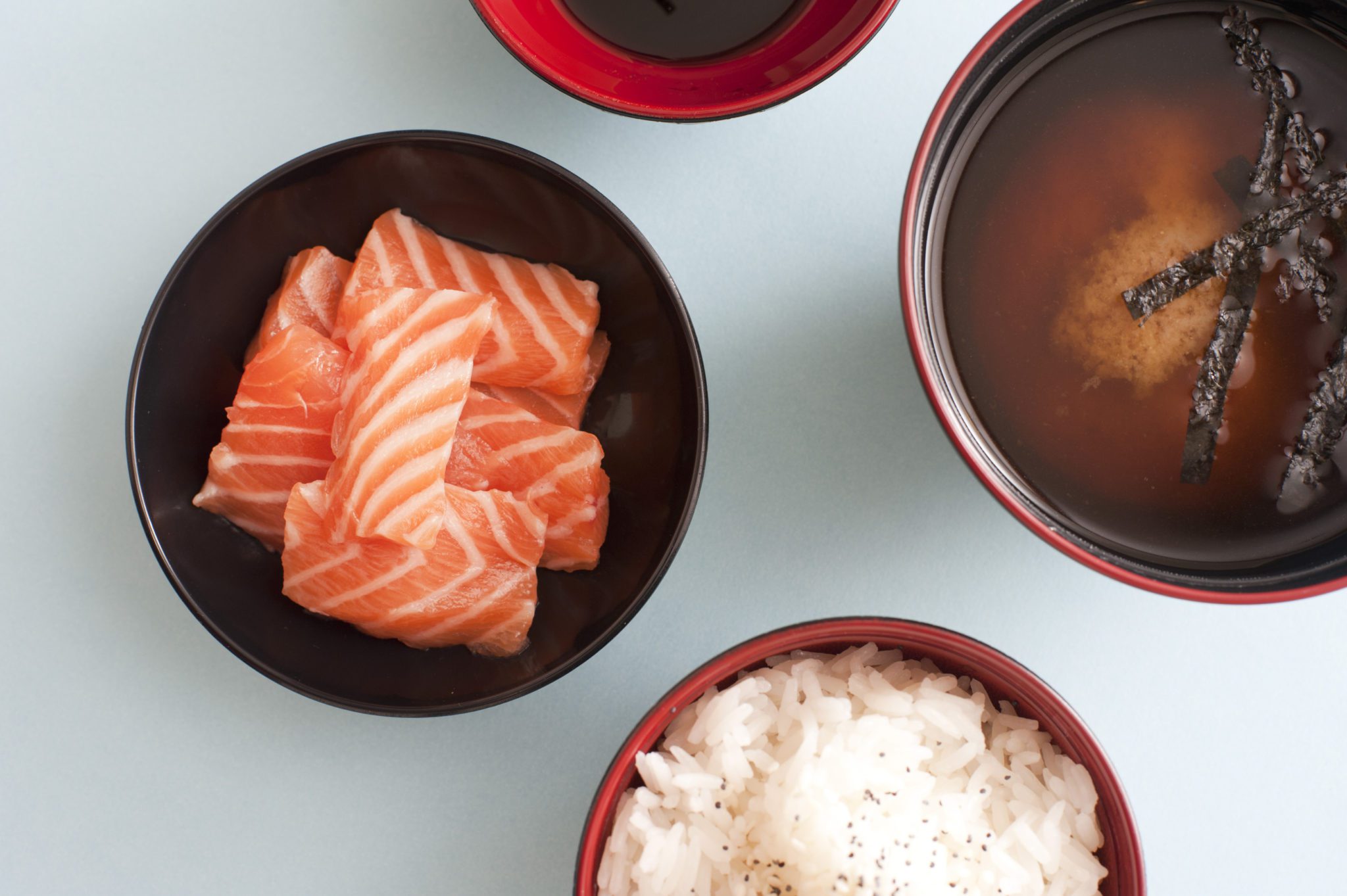 What is Miso?
Miso is a fermented soybean paste that is used to make soup and as an ingredient in many other recipes. It is traditionally made of soybeans, salt, and koji-cultured rice, but you can also find new varieties like Chickpea or Barley Miso. Koji is a live Aspergillus culture that makes all of the magic happen in foods like soya sauce, miso, mirin, and sake.
I was overwhelmed when I first set out to buy miso for use in my own home. There were many options available in International markets and health food shops and I wasn't sure what to get. There were dried miso soup powders that came in packets, which proved to be quite disappointing. Miso pastes, which can be found in the refrigerated section of many grocery stores, provide a much higher quality experience! Even then, there's red miso, white miso, sweet miso, brown rice miso…once you choose the right one for your needs, it can take some time to get your miso soup recipe perfected. Check out my own recipe for Miso Soup for more about the types of miso paste.
Although I have tried many miso pastes over the years, the first brand that I came across has remained my favorite: Miso Master. I've used their products for over a decade now, so imagine my delight when I received an invitation to tour their American Miso Co. facility less than an hour from my home!
I joined their social media manager Leila Bakkum on a visit to the American Miso Co. production facility in Rutherford County, North Carolina. The slow, winding drive through the mountains was beautiful, with long views of rolling hills and pastoral farmland. This area was chosen specifically as the ideal place to establish a miso making facility – the clean, good quality water, the climate, and the humidity all being important factors in the process.
We arrived at the American Miso Co. after an hour or so. It was not a large, sprawling factory as I had expected, but instead a cozy series of small buildings. After a quick trip to the office to check in, we met the Miso Master himself: Joe Kato.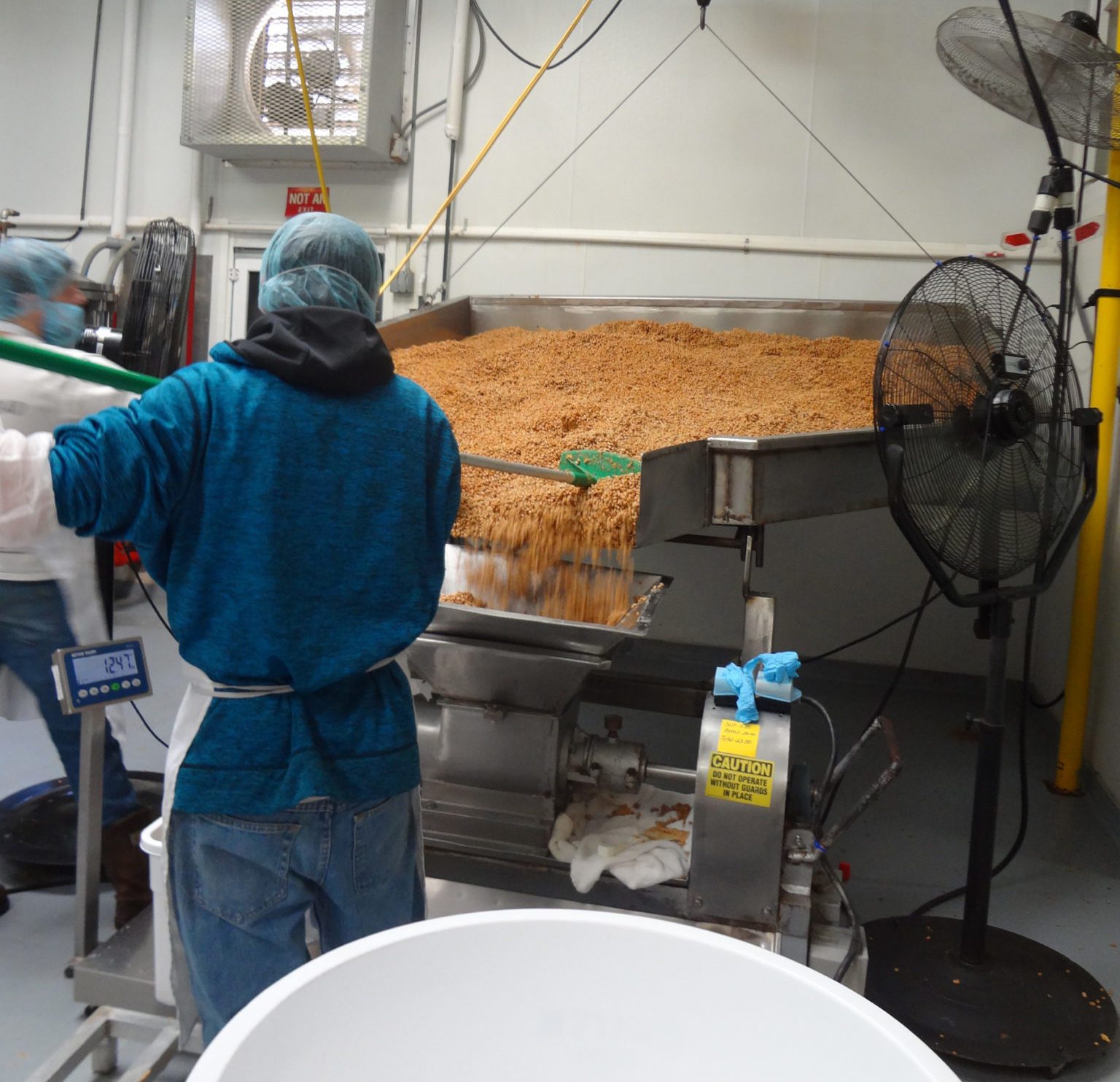 Donning our gowns and hairnets, we began the tour in the main production room. This place is lively, full of people preparing ingredients for the various steps of the miso making process.  The air was rich with steam and the smells of cooked rice and soybeans.  The entire facility runs like a well-oiled machine every single day. One of the largest employers in the rural county, the twenty-three employees work steadily. Some cook enormous quantities of rice and others inoculate it with koji. Others are packaging miso into 40-gallon vats for their restaurants and industrial clients like Smiling Hara Tempeh, the Hop, Vortex Doughnuts,  Doc Chey's and Heiwa Shokudo (a sushi restaurant opened by Joe Kato). American Miso Co. produces over 1,500 tons of miso every year.
Beautiful vats and cedar rooms hearken to the traditional methods, but Joe Kato has gracefully incorporated the modern requirements of food production facilities without losing the heart and soul of the miso making craft.
Even though much of their process is based on the traditional methods from Japan, they have had to make concessions as laws changed and the company grew in popularity. USDA and FDA food production rules made them switch from wooden trays and cedar koji rooms to plastic trays and updated rooms. They source their koji from Japan rather than propagating their own, due to time and space constraints.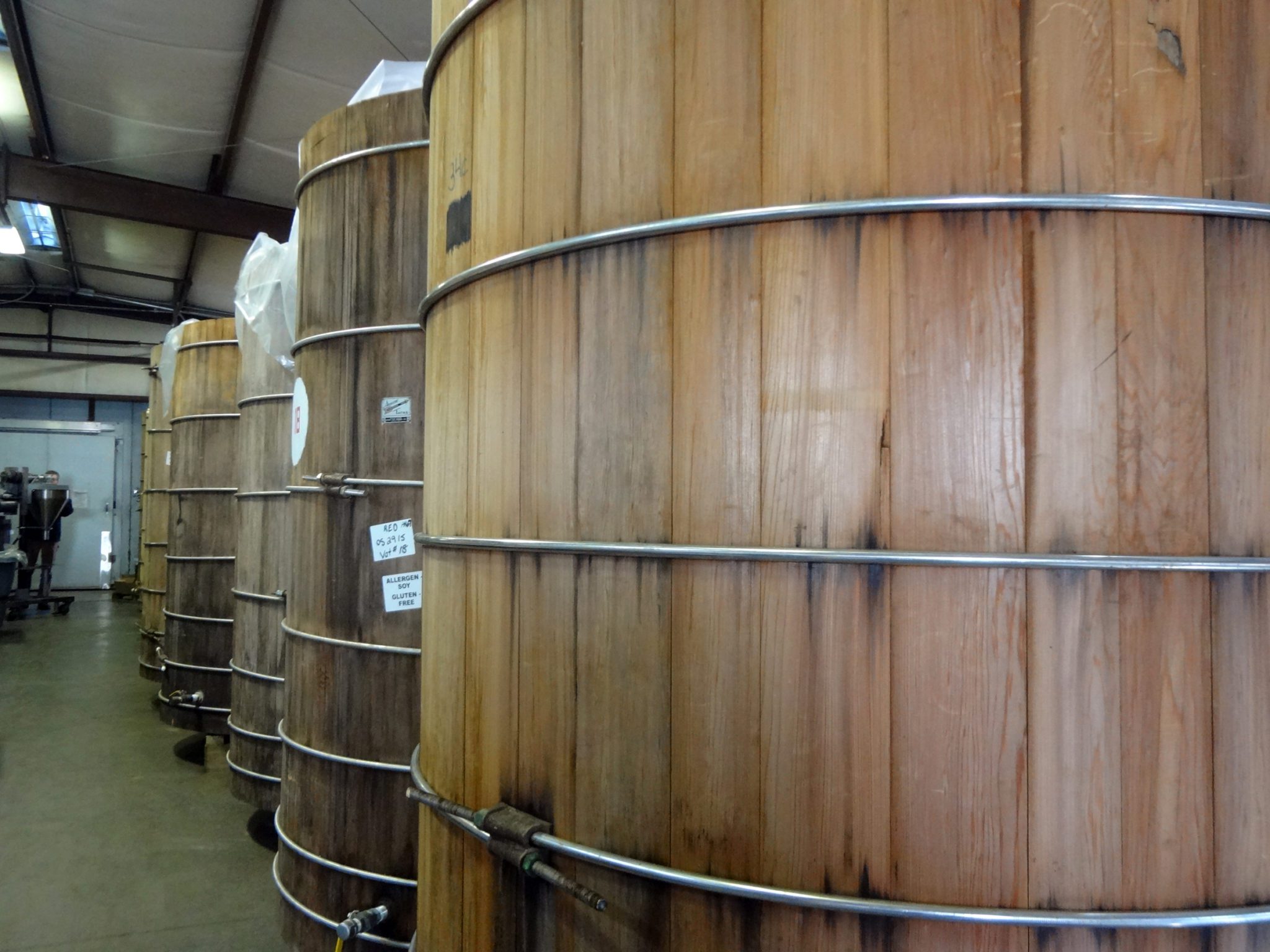 I found myself completely enamored by the huge wooden miso barrels, each holding around four tons of miso while it ages to perfection in a year or two. Miso Master Joe started with only eight casks back in 1979, and they now have 55 of the custom-made, giant wooden barrels.
American Miso Co. is the second-largest traditional miso producer in the world, but it is the largest organic miso producer. All of the produces used in the crafting process are grown in the United States, certified organic, and non-GMO.  Many other large producers tend to use accelerants to speed up the fermentation process, while Miso Master prefers to allow time to work its magic. As far as my palate is concerned, it is completely worth the wait.
There is another amazing feature of the miso-making process, and that is the production of tamari. This dark liquid is a brine created during fermentation and it surrounds the aging miso in the vats both large and small. It sounds simple, but this sauce explodes with a potent, savory flavor. Rich with umami and full of live cultures, it has been finding its way into many of my recipes, marinades, soups – everywhere!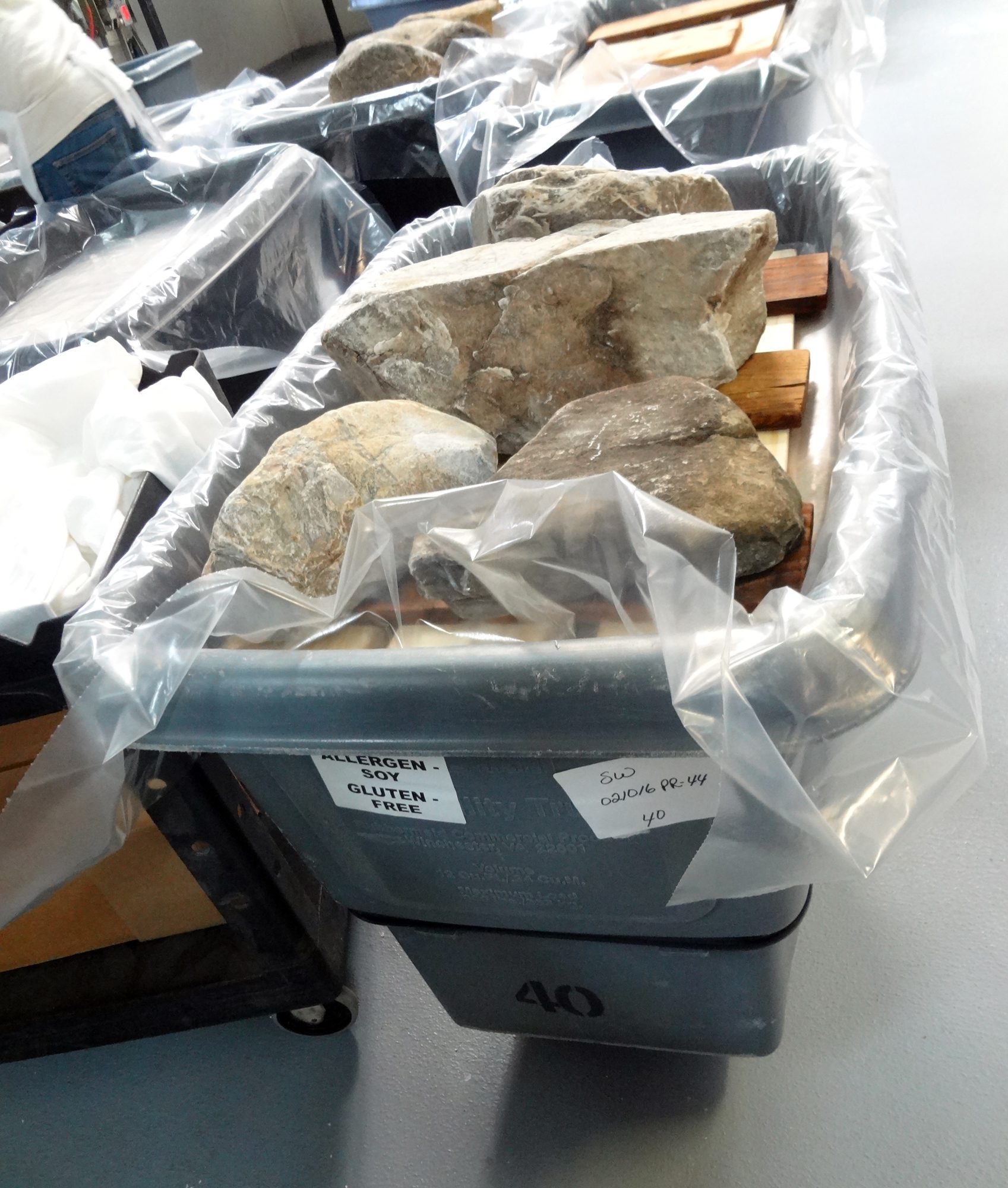 I left the American Miso Co. with a bottle of tamari and a variety of miso pastes to try. I've been playing around with these versatile ingredients for a while, and I look forward to sharing those recipes with you very soon!
[content-egg module=Amazon]
Get updates from Pixie's Pocket: brewing and herbs in your inbox:
Hi! I'm Amber Pixie, and this is my site. Enjoy the recipes, information, posts, and please feel free to message me if you have questions!