Homespun Seasonal Living's "Herbal Cookery E-Course" Now Enrolling!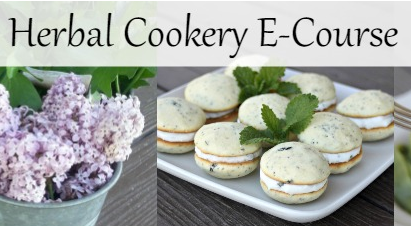 Kathie from Homespun Seasonal Living is a great teacher for many who are new to the world of herbalism and and a source of inspiration to those who are beginning to reach out to reconnect with the living world around them.
The newest offering from HSL is an Herbal Cookery E-course.  This five week class is based on a workshop she has been teaching on her homestead, and it has been transferred to an online format for all of you who are interested in delving into the world of herbs!
TheHerbal Cookery E-course is designed to get the herbs from your garden to the table in a creative fashion. There are more culinary options available out there than making tea, drying the herbs or making pesto, and Kathie's ready to guide you!
The Herbal Cookery E-course includes:
Instruction in the basics of harvesting herbs and food making
More than 50 recipes for creative herbal cookery
Money saving tactics to use homegrown herbs over expensive store purchased items
Printable planners, labels, and much more
An interactive community for inspiration and encouragement
Intrigued? Here's a video from Kathie herself, to show you what her new class offers her students:

Herbal Cookery Video from Kathie Lapcevic on Vimeo.
The course starts on September 19, 2016. Lessons are e-mailed every Monday. Students have unlimited access to a private forum to interact, ask questions, share photos, and more. Best of all? It's at an affordable price: only $37.
Act quickly to get the 2-For-1 Special: Students who register before August 8th can bring a friend for free!
Hi! I'm Amber Pixie, and this is my site. Enjoy the recipes, information, posts, and please feel free to message me if you have questions!