Blog, Herbal Recipes, Natural Beauty, Recipe Box, Sweet Stuff Recipes
Lavender Infused Honey Recipe
Lavender Infused Honey is potent and delicious, but it is not just for eating! It's also great to have on hand for a first aid and beauty regimen as well! You can make and use this honey easily in your own home. I'll give the instructions below but if you want a more in-depth look…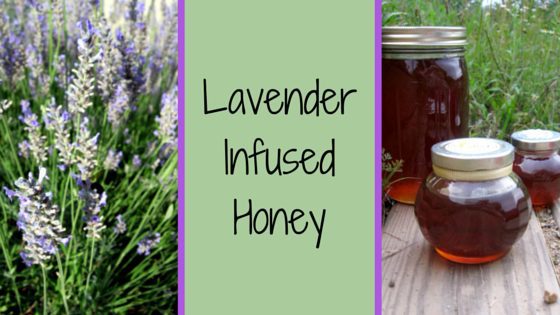 Lavender Infused Honey is potent and delicious, but it is not just for eating! It's also great to have on hand for a first aid and beauty regimen as well!
You can make and use this honey easily in your own home. I'll give the instructions below but if you want a more in-depth look at techniques, check out this post about making electuaries, or herb-infused honey.
Ingredients:
Crunch up the dried lavender flowers to release their oils and add them to a jar.
Warm your honey slowly in a double boiler and then carefully pour it into the jar over the flowers. (Please don't microwave honey as it very quickly becomes sticky hot napalm!)
If you intend to use this honey for external purposes only, add a drop or two of lavender essential oil. I do not promote the internal consumption of essential oils or the use of them without seriously strong dilution.
Lavender Honey for your skin:  Try smearing this honey on your face for a spa experience that can't be beat! The essential oil of lavender is a known treatment for acne and the honey is moisturizing for your skin.
Lavender Honey for burns: Lavender is known for its antiseptic and anti-inflammatory properties, hence the root of its Latin name; Lavare, which means "to wash."  I just add a dab on top of a burn before adding a wrap or band-aid (and a cold pack). Here's more on why lavender is so awesome and ways to use it.
Enjoy this simple project and make some as gifts for bridal showers, holidays, or any other pick-me-up occasion!
Get updates from Pixie's Pocket: brewing and herbs in your inbox:
Hi! I'm Amber Pixie, and this is my site. Enjoy the recipes, information, posts, and please feel free to message me if you have questions!