Blog, Promos, Smoothie Recipes
Quick Smoothies – A Frugal Recipe [Acuisina Review + Giveaway!]
I make a smoothie every single morning. While I appreciate the occasional full "homestyle" breakfast with eggs, bacon, pancakes, toast, and whatever else you have room to cook up, most mornings I just don't have the appetite to handle all that food. So smoothies it is! I know that there are a lot of folks out…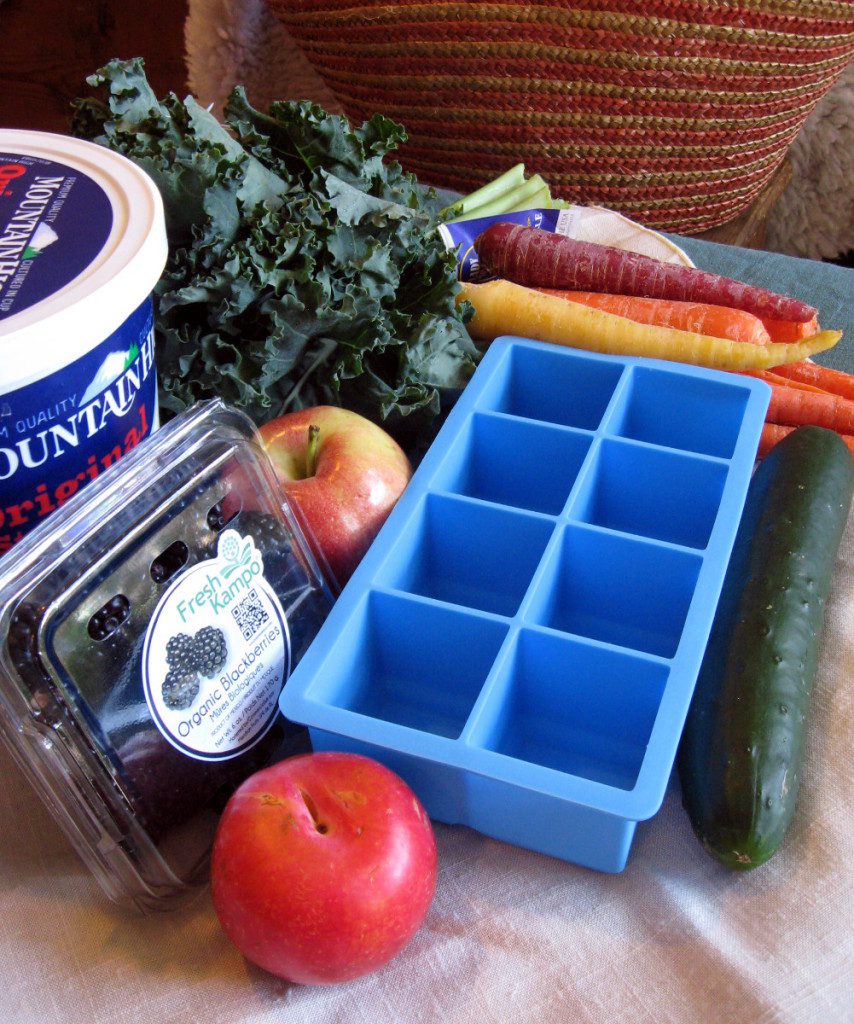 I make a smoothie every single morning.
While I appreciate the occasional full "homestyle" breakfast with eggs, bacon, pancakes, toast, and whatever else you have room to cook up, most mornings I just don't have the appetite to handle all that food. So smoothies it is!
I know that there are a lot of folks out there who make smoothies regularly and I know that everyone has their own method. My go-to technique is to use a NutriBullet with a mix of whatever fresh fruits and veggies I have on hand, a splash of milk, juice, and a big old plop of yogurt, too!
I wish I could say that all of my food is certified organic, but I just can't always afford the premium price tag. However, since my smoothies are made from whole fruits and veggies blended with skins and all, I definitely do my best to choose organic produce for this portion of my diet.
Once or twice a month, I receive a CSA delivery from Mother Earth Produce here in Asheville, but I never seem to use up all of the delicious produce before some of it wilts. Until now.
Acuisina large ice trays are a game changer!
Acuisina sent me a few of their Jumbo 2″ Ice Cube Trays
so that I could give them a try and review it for you all, and let me tell you, am I ever glad that they did!
Just after they arrived, I received a beautiful CSA box with plums, strawberries, apples, carrots, cucumbers, and curly leafed kale. I also discovered a HUGE whole milk yogurt tub on sale for $2. Talk about good luck and fortuitous timing…but then I worried about how I'd use it all up in time. Then it hit me: Smoothie Starters!
Quick Smoothies: A Frugal Recipe
The QUICK part of this recipe shows up the following morning when you grab the big cubes of frozen smoothie-starter out of the freezer! The Acuisina silicon trays
are very easy to manipulate, and the cubes just pop right out!
The FRUGAL part of this recipe is that you can prepare all of these delicious smoothie cubes when your fruits and veggies are fresh – much less waste, wilt, and rot!
The BEST part of this technique is that you can use whatever you have on hand. Do you like avocado? Throw it in! Prefer non-dairy yogurt and milk? That works, too!
Here's how it goes:
Assemble your ingredients.
Chop your ingredients into small bits.
Sprinkle those ingredients in the Acuisina large ice tray.
Add a glob of yogurt to each tray.
Fill the rest of the way with mil or juice.
Pop them in the freezer!
Remove them the next day and put them in a freezer bag or other storage container to enjoy over the coming days.
To prepare my morning smoothie, I grab a cube, toss it in my single serving blender cup, add a splash of whatever juice, tea, or herbal infusion I want to include, and give it a whirr!
The Acuisina Review
These trays have saved me both time and money on my good, healthy breakfast routine!
Being unfamiliar with silicon bakeware, I was concerned that the filled trays would be too wiggly to move without spilling, but these guys are strong! They are also really easy to clean, and the silicon makes popping the cubes out just as easy as pie.
Then I realized that these ice trays can be good for so much more than smoothies. Each compartment can hold 1/2 cup, so you can do a ton of recipes with it:
Freeze pesto or sauces
Freeze herbs in olive oil
Freeze water for ice (duh)
Freeze healthy baby food
Freeze yogurt for smoothies or desserts
Freeze leftovers in single serve, healthy portions
Bake square brownies or quick breads or cake
Use as a soap mold
Do you want to give Acuisina Jumbo Ice Trays a try? Buy some here, or enter to win a set of two trays using the widget below!
Get updates from Pixie's Pocket: brewing and herbs in your inbox:
Hi! I'm Amber Pixie, and this is my site. Enjoy the recipes, information, posts, and please feel free to message me if you have questions!