Blog, Recipe Box, Sweet Stuff Recipes
Bacon Fat Gingersnaps [and Honey Cream Cheese Dip]
I know, I know, bacon is so played out. But if you save your bacon grease like we do, you can turn it into salty, smoky, spiced gingersnaps that will knock your socks off!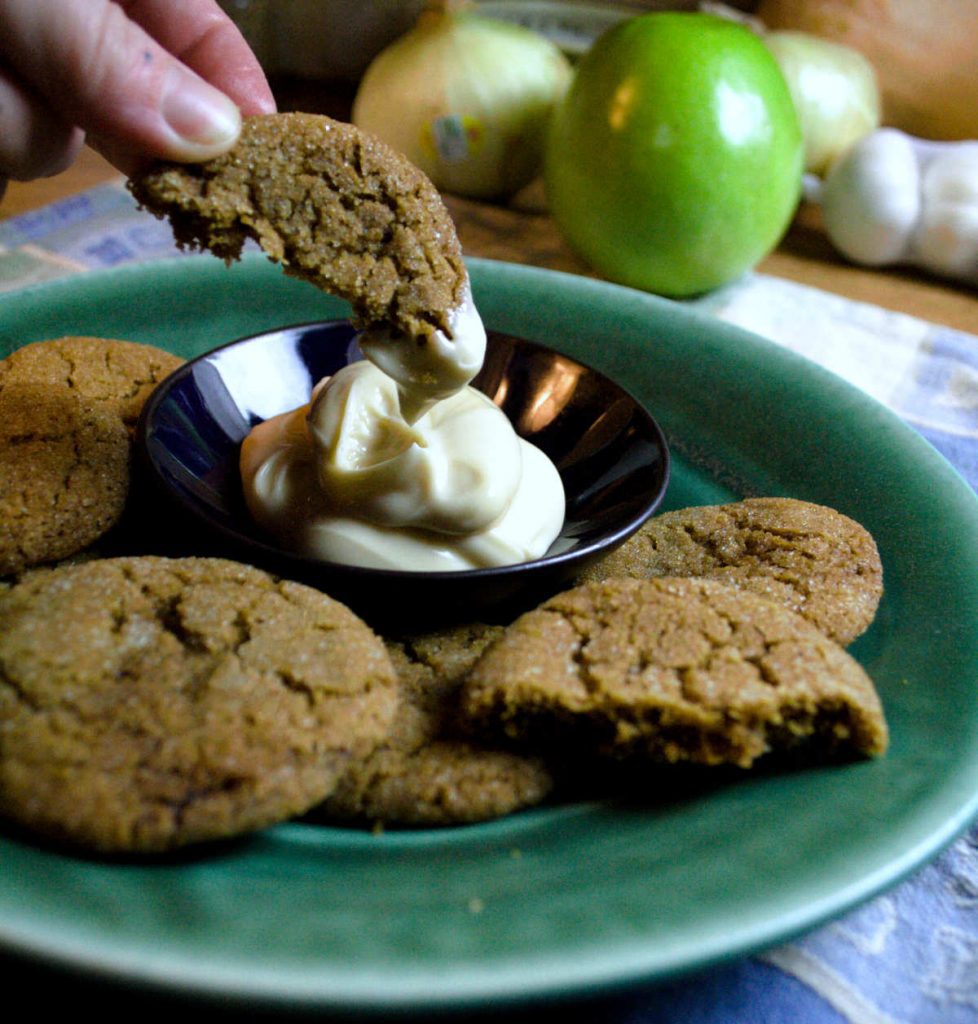 Thanksgiving is synonymous with turkey and mashed potatoes, pumpkin pie, and (shudder) green bean casserole, but in my household, it always means the annual appearance of Bacon Fat Gingersnaps.
There is a lovely piece of pottery that lives on my stovetop, and it is into this gooey ceramic jar that I strain my bacon grease every time I make it. That lovely fat gets used for frying foods, flavoring dishes, and to make the best fried eggs ever, but I always make sure that I have enough bacon grease saved over to make a batch (or three) of these cookies every November.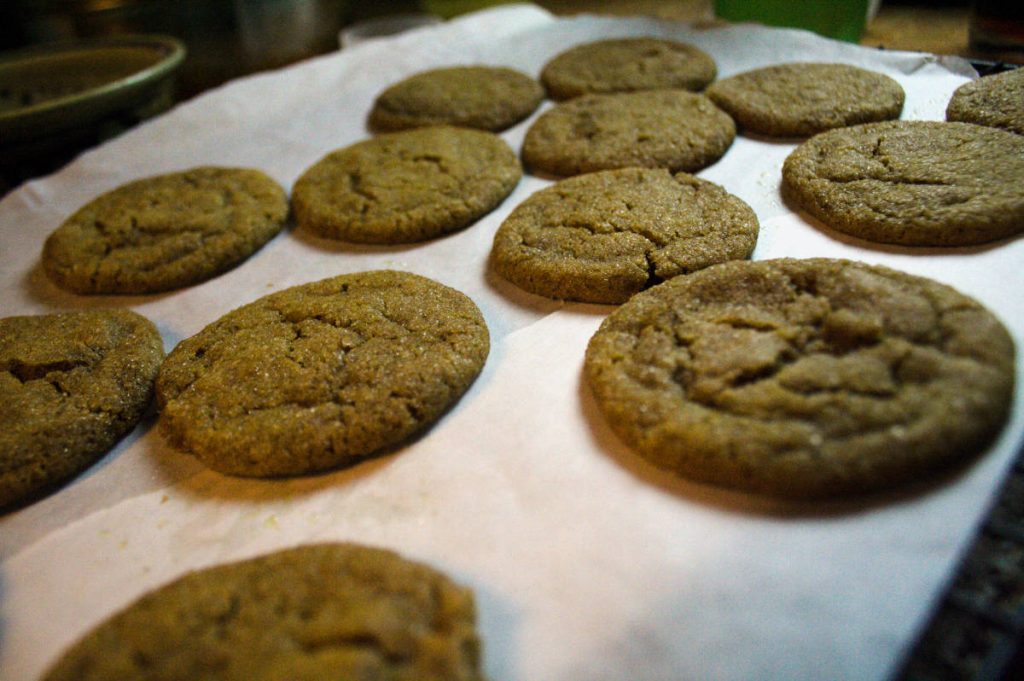 These salty, smoky delights adorn my Turkey Day table and get handed out as gifts during the winter holidays, and they are so easy to make! All you have to do is dedicate a few hours in a day to make a few batches of this recipe. You can bake up a tray or two of hot cookies to enjoy immediately while freezing the rest for later! These will keep up to three months in the freezer. Bacon cookies on demand are proof that life can be good.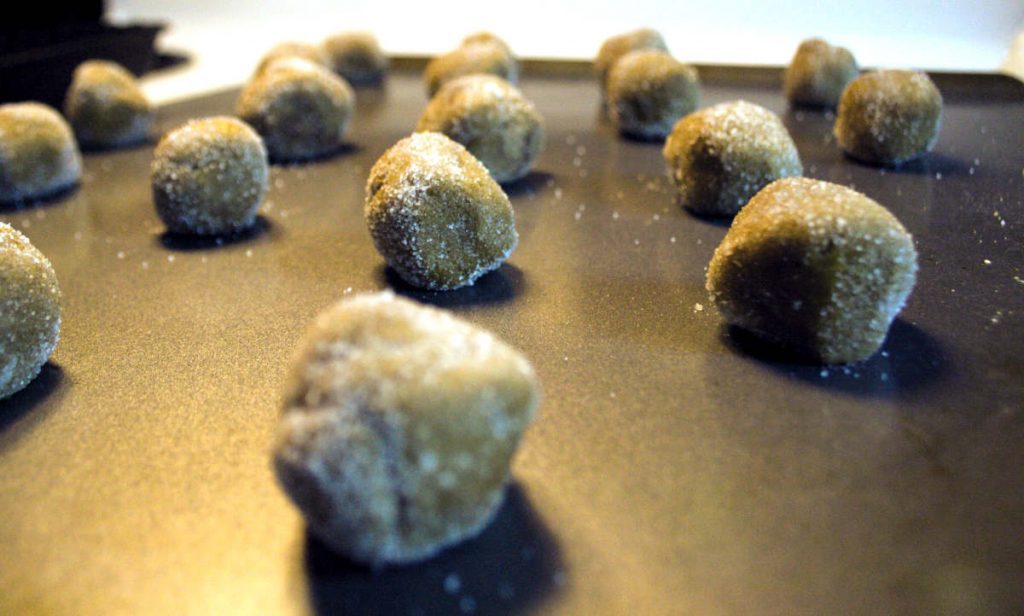 Print
Bacon Fat Gingersnaps
The original recipe included a teaspoon of salt, but I found that I enjoyed them better when I made a batch without it. The bacon fat has plenty of salt in it; there's no need for the extra. I've also tweaked this recipe with bourbon and black pepper to give you a little more bang for your bacony buck!
Ingredients
¾

 cup of rendered bacon fat, chilled

1

 cup of sugar, plus extra for baking

¼

 cup of molasses

1

large egg

2

 cups of all-purpose flour

2

 teaspoons of baking soda

2

 teaspoons of ground ginger

½

 teaspoon of ground cloves

½

 teaspoon of ground cinnamon

1/8 teaspoon

of ground black pepper

2 tablespoons

of bourbon
Instructions
If you have a food processor, throw all of the ingredients in and give it a whir until the dough is smooth and firm. Otherwise, beat the bacon grease, bourbon, and sugar in a bowl and beat them well, and add the dry ingredients one by one.
Wrap the dough in plastic and chill it in the refrigerator for a few hours.
Preheat the oven to 350 degrees and line a few baking sheets with parchment paper or silicone baking sheets.
Put the extra sugar in a bowl. Grab about a tablespoon of dough and roll it into a ball and then roll it in the sugar until it is thoroughly coated. Put the sugared dough balls on the baking sheets about two inches apart.
Bake for 10 to 12 minutes or until the cookies are dark brown. Let them cool on the baking sheets for a few minutes before transferring them to a wire rack to cool completely.
If you pull these cookies out a minute or two early, you will get a gooey-ooey rich version that's best eaten quickly, because it gets soggy when cool. Let them finish baking, and in true gingersnap form, they'll stay good for a long time. The staler they get, the better they are dipped in tea.
Freeze the cookies: Make individual balls of the dough as described above, but instead of the oven, pop that baking sheet into the freezer. Once the dough balls are frozen hard, store them in an airtight container in layers separated by parchment paper, or if you are lazy like me, throw them all together in a gallon freezer bag so that you have to chip at it with ice picks to get a few cookie balls off. Bake the frozen cookies without thawing them at 350 for 12-14 minutes. Use within 3 months, or you'll have the horror of frostbitten cookies.
Recipe Card powered by
[content-egg module=Amazon template=custom/grid4]
Honey Cream Cheese Dip
8 oz package of cream cheese, softened
1/3 cup of honey
1 oz of Barenjager
2 Tbsp of milk (or cream)
Cut the cream cheese into smaller cubes and put it in the food processor. Pour in the honey, milk, and Barenjager and whir it together until it is all well-blended. Give it a taste, and feel free to add more honey or booze (hic!) until you are happy!
Serve this sweet, creamy dip with a plate of these dark, rich gingersnaps and watch people's eyes roll back into their heads when they get a load of the flavors! It also goes well as an accompaniment on a sliced fruit tray. Or between two cakes. Or cakes made out of brownies. Anything, really…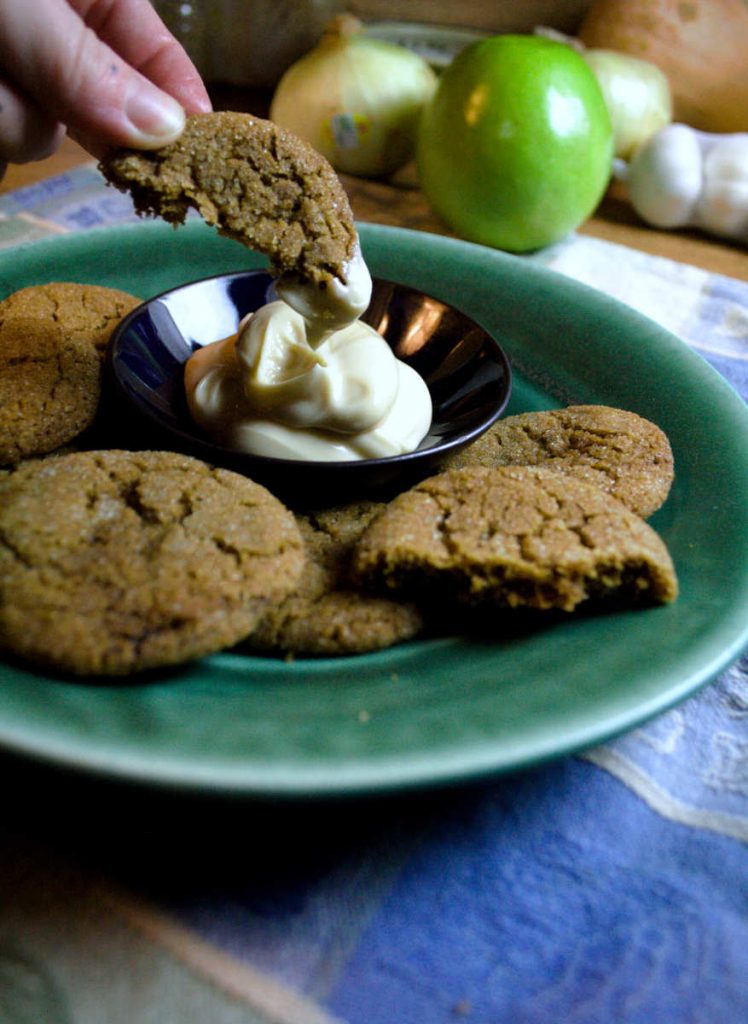 Bacon Fat Gingersnaps Recipe adapted from Cathy Horyn via Epicurious: https://www.epicurious.com/recipes/food/views/bacon-fat-gingersnaps-51128400
Get updates from Pixie's Pocket: brewing and herbs in your inbox:
Hi! I'm Amber Pixie, and this is my site. Enjoy the recipes, information, posts, and please feel free to message me if you have questions!