Blog, Herbal Recipes, Herbalism, Recipe Box, Spirit
Recipe Box: Four Thieves Vinegar
Here is a Four Thieves recipe made without essential oils. This one is used for cleaning physical spaces and energies and is not for internal consumption!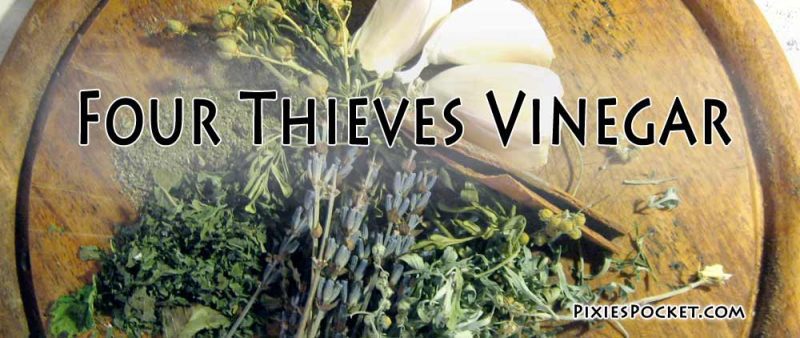 Four Thieves Vinegar is a great tool that gets a lot of use around my house. A dear friend introduced it to me when she traded me a 4-ounce jar of it for a batch of infused honey I had at an herb exchange. She explained that this herb-infused vinegar has antibacterial and antiviral properties.
I use it as a spray for sick rooms to stem the spread of illness, spray it on mattresses while the sheets are off for a wash and change, and I even clean counters with it. Don't worry about the vinegar smell, either. As long as you spray it judiciously and don't soak absorbent surfaces with it, it will evaporate without leaving an odor. Personally, I prefer the smell of herby vinegar over most perfumed chemical sprays.
Herbal vinegar has been used for centuries around the globe for health and wellness.  I've used it for washing my hair, for foot soaks to help combat fungal overgrowth, and of course, my beloved fire cider for those cold winter nights. I even make my own vinegar from pears and apples!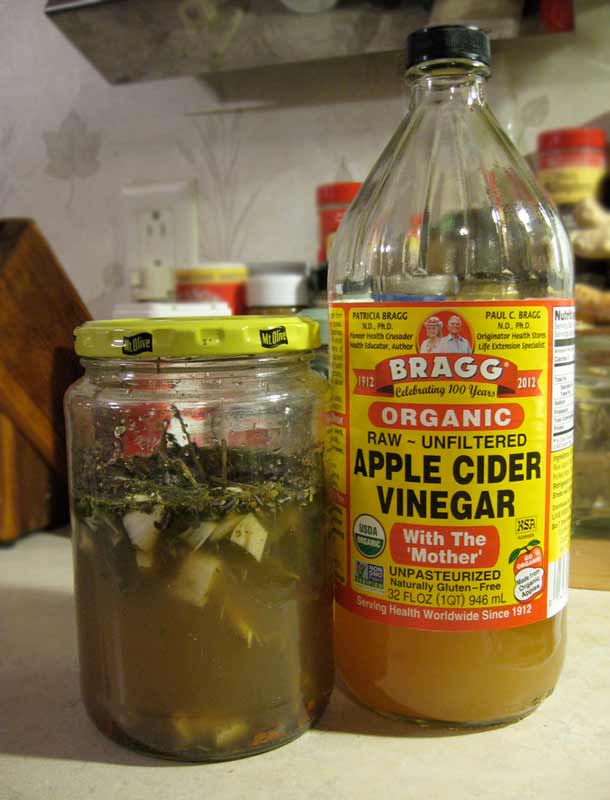 But why four thieves?
The legend goes that there was a pack of thieves somewhere in plague-ridden Europe who made their bank by breaking into the houses of the dead plague victim's houses and stealing their valuables, and they did it for a good long while. They weren't pursued at any speed because it was assumed that they'd simply contract the plague and die. The thieves were finally caught with vinegar-soaked rags tied over their noses and mouths. When asked how they had gotten away with such a dangerous job for so long without catching ill themselves, they offered to exchange their recipe for leniency, indicating that the special vinegar was the key to their continued health. They washed their hands and faces with it and liberally used it on their bodies before they went a-robbing. There are other tales out there, some of them claim this all happened in the 14th century, others claiming 18th, some say France, others elsewhere…and there are as many variations in the recipe as there are in stories about its origin.
Some people use only four herbs, one for each thief.  But as my main focus is antiviral and antibacterial purposes and a general "get-ye-gone!" sort of energy, I go with more than four.
Four Thieves Vinegar Recipe
**This Four Thieves Vinegar recipe is not intended for internal use – I make plenty of other tasty vinegars and tinctures for those purposes. This is for heavy duty cleansing of both physical and energetic planes.**
Add the following herbs in a jar:
Sage
Cloves (crushed)
Rosemary (fresh sprigs)
Horehound
Cinnamon Stick
Garlic (fresh cloves, smashed)
Wormwood
Rue
Motherwort, thistle, or other protective, prickly herbs make a nice addition, too.
For best results, start this blend as the full moon wanes – a prime time for banishing, cleansing, and removal of barriers.
Put all of the herbs in a jar – as this is not to be taken internally, use the quantities that feel right to you.
Cover the herbs with vinegar.
Put a lid on the jar and set it on a countertop out of direct sunlight for at least a moon cycle, but no more than two months. Be warned that the vinegar will eat away at metal lids, like the ones on pickle jars and such.
Strain your vinegar it into a jar or bottle. You can throw those herbs in your compost bin or sprinkle them at your boundaries where you need a bit of reinforcement!
Once strained, store your vinegar in a dark, cool place. The refrigerator should do fine, although I just keep mine in a plastic spray bottle under the kitchen sink with the cleaning supplies!
Household Uses
Remember, if it is going on your skin, dilute it first.
Bug Spray for you – fill a spray bottle half with Four Thieves Vinegar and half water. Apply as needed to the skin, and spray on socks and shoes to help deter ticks and fleas.
Bug Spray for the house – spritz some of the vinegar on your baseboards or floors to keep away ants and spiders and other soft-bodied buggies (always spot test first to make sure it won't color or damage the surface)
Foot Soak – add a cupful to some warm water and soak your feet! This helps with foot fungus and helps control foot odor.
Energetic Uses
Doorway Spray: pour or spray some of this at your doorstep to keep away thieves or other bothersome visitors. Sometimes I'll add cayenne to the recipe just for this purpose.
Floorwash: add to floor washes for cleaning up before moving into a new home, or to exorcize old energies. Follow up with something to bring sweetness in, like Florida Water, or your preferred blessing blend.
Get updates from Pixie's Pocket: brewing and herbs in your inbox:
Hi! I'm Amber Pixie, and this is my site. Enjoy the recipes, information, posts, and please feel free to message me if you have questions!