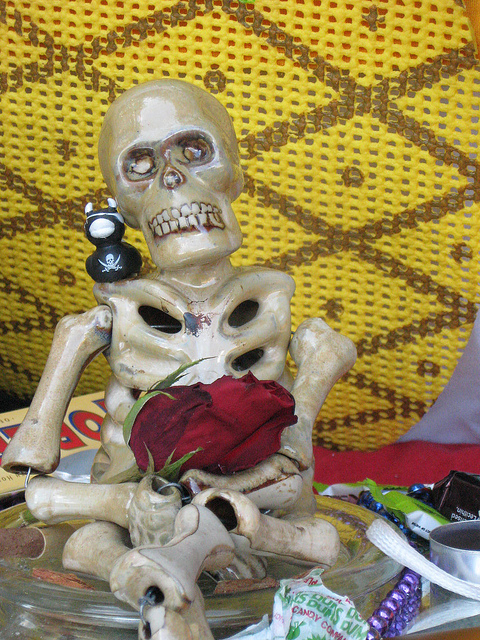 The drum altar is one of my favorite parts of participating in events with my spiritual family. Made up of eclectic, ecstatic, and excited witches, we use this space as a focal point for the community at large weekend events.
The core structure of the drum altar uses the Yoruban Ifá spirits, the Orisha, and their archetypes to build from., but the altar is not limited to that tradition. We have many different paths at these events, and the common languages are love and drum, and so there is a Ganesha dancing with Elegua, a Legolas doll on the Ochossi altar (hunter, archer, tree-dweller), and many different archetypes used to symbolize the energies we are all bringing together to work with.
Along with symbols, the festival participants bring food, candy, fruit, bread, wine, rum, whisky, cigars, candles, and more…the offerings left on the higher tiers are left for the gods, and those on the blanket are for the hungry and thirsty drummers, dancers, and watchers as the night grows darker and the fire grows higher.
Enjoy these glimpses of the altar during the daytime…imagine it at night, lit by tealights and candles, the mirrors flashing with the firelight, the pounding drums at your back, and the blankets full of happy people feeding each other chocolate, honey, and grapes!
Hi! I'm Amber Pixie, and this is my site. Enjoy the recipes, information, posts, and please feel free to message me if you have questions!