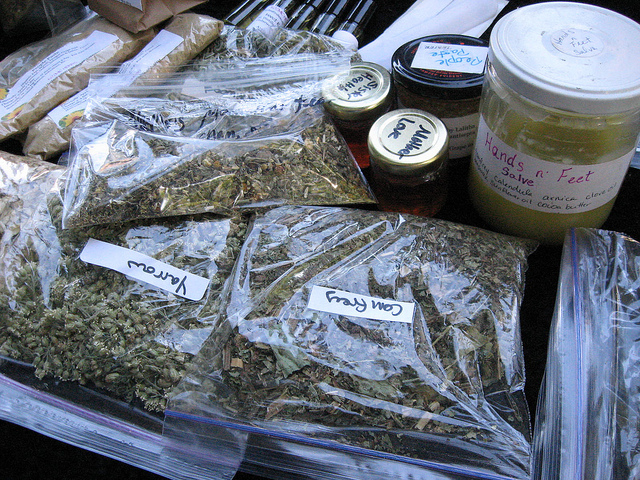 Pardon my lack of writing, but I've been recovering from my vacation.  I didn't overexert myself, but I have been so happy and relaxed, that a week has floated by since my last update before I even realized it!
Last weekend's festival was a delight.  My love and I joined our friends in the woods of Georgia for some sweet time of drumming, yoga, healing, and deep communication…there were intensity and power for sure, tempered with the chill breeze of an evening, and the pending hibernation season for us all.
My favorite part of the whole event was an Autumnal Herb Exchange! Herbalists and gardeners brought their spare herbs and seeds to swap.
I brought extra herbs that I had to spare, things that I didn't think I could use before it began to lose potency.  I rid myself of:
Yarrow flowers and leaves (native, growing in my yard, chemical free!)
Hibiscus flowers
Mugwort
Valerian
Hops
Comfrey
and a bit more…
And I gained some hand-harvested, organic seeds for next year's garden:
Mammoth Sunflowers
Cinnamon Basil
Beefsteak 'Maters
Cucumbers
Garden Sage
As well as the hand balm I mentioned, I managed to also get a lovely Moontime Tea Blend (Yarrow, Spearmint, Lemon Balm, Chamomile) and a powdered medicine called People Paste (Myrrh, Oregon Grape Root, and Slippery Elm).  The People Paste is added to honey to be taken as an electuary, and I am surely loving this blend!
And tonight, I am sampling the many flavors of Pixie's Pocket honey at a customer's dinner party.  I'll be serving the honey plain, as well as drizzled with water crackers and local chèvre.  This will be my first of such events, so wish me luck!
Hi! I'm Amber Pixie, and this is my site. Enjoy the recipes, information, posts, and please feel free to message me if you have questions!