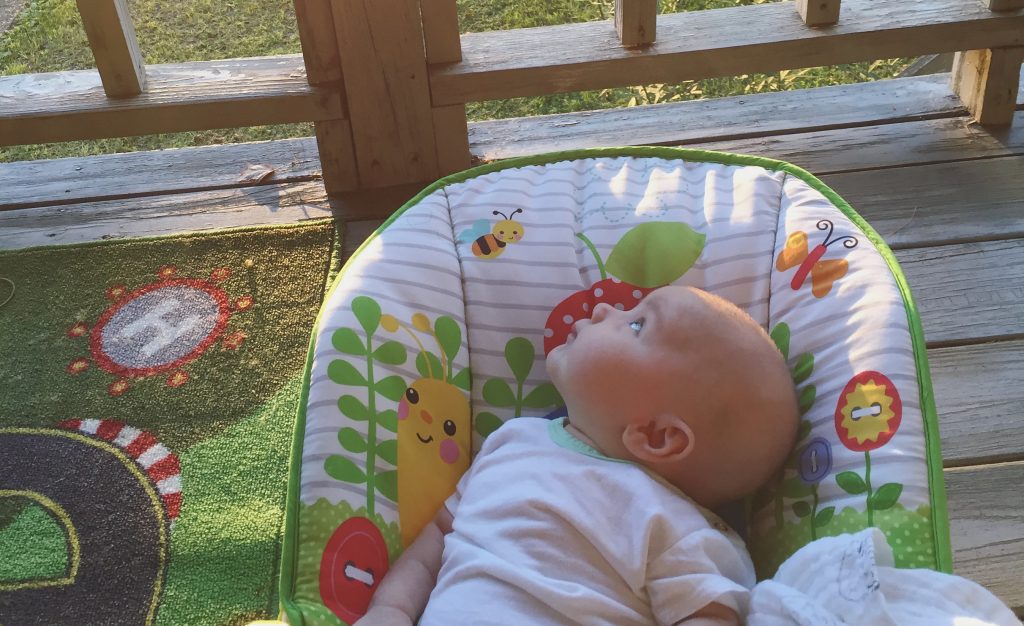 Between the book-writing and the baby, I feel blessed with abundance but that is concurrent with a lack of sleep and time in which to appreciate the blessings fully. I am lucky to be able to work from home as I resume some of the responsibilities from my day job, too.  I've been struggling a bit with eating enough as I learn just how many calories I need to feed myself and the baby. Nettles tea has been helping me with my low iron levels, but it's been tough fighting fatigue with so much on my plate. I can do it, though! Even on the tough days, I know I have the gumption to power through. And then, one day, I'll rest.
It's been a wet, steamy spring and summer, so much so that we've been breaking records on rainfall, flooding, and the numbers of kayakers and tubers who have lost their lives in the swollen French Broad River. We haven't gone tubing once this year between the dangerous waters and my required time to heal postpartum.
The humidity has been wonderful for plants, though. I've been harvesting a metric ton of cherry tomatoes off of my single plant, and some of them have been literally busted open from the rain!
The bugs are also doing quite well – I've had to start spraying a diluted Neem Oil and soap mix on our dwarf fruit tree orchard to combat fuzzy aphids and powdery mildew on the trees. Life is abundant this year!!
In delightful news, I've been able to harvest elderberries from my yard for the first time ever! Pliny and Younger Brother are doing well and growing strong. I gather the branching umbrels of elderberries as they come ripe and process them by removing the berries from the stems and then storing them in the freezer. Once the harvest season is over, I'll make syrup or maybe a mead – it depends on how much I end up with!
I have discovered that we have a particular type of fruit fly in our yard that loves elderberries as much as I do. After trimming the berries from the stems, I found tiny white worms crawling around the fruit. After a bit of research, it turns out that the worms aren't harmful and so a few good rinses of the berries in a colander does the trick to get rid of them.
Here's my handy tip to make processing elderberries easier:
August is winding to a close already – time is moving by so quickly. There are a few brightly colored leaves on the grass already, and the potato greens are starting to brown and die back. The wheel turns! I'll be at Harvest Homecoming 2018 in Tennessee again this year, hosting a homebrew hangout and mead-making demonstration. It will be Alia's first event outside of my body, and we're excited to dance her around the fire and drums!
Take care, and enjoy your harvest season!
Currently Reading:
Herbal ABC's: The Foundation of Herbal Medicine by Dr. Sharol Tilgner
Hi! I'm Amber Pixie, and this is my site. Enjoy the recipes, information, posts, and please feel free to message me if you have questions!