In this guest post, Liane shares an overview of acupuncture, one of my favorite healing modalities to receive, with a look at its history and some of its radical community roots in the United States.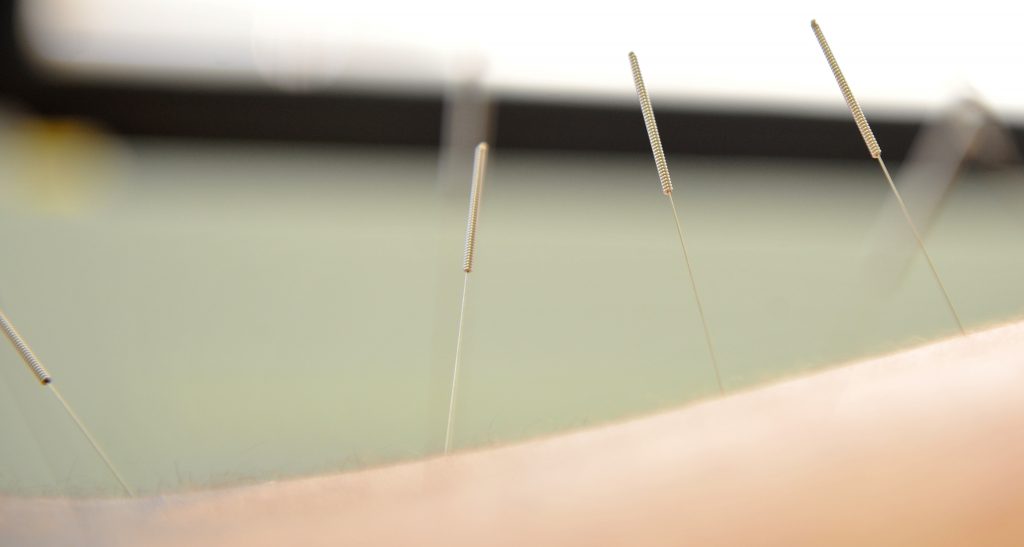 Acupuncture is a whole medical system, and from the western medical lens is considered a complementary modality. A complementary modality is a treatment option that is used in conjunction with western medicine1. The first documented version of the acupuncture system, including diagnosis and treatment, dates back 100 B.C.E, although evidence was found that the system may date back even earlier, through finding stones carved in such a way they may have been used for lancing wounds2.
While Chinese immigrants on the West Coast are known to have utilized acupuncture treatments among themselves since the 1800's, a lesser known version of the modern history of acupuncture in America stems from the 1970's and the civil rights movement. The Black Panther Party and the Young Lords began a drug treatment program with acupuncture as the main component3. A special protocol was developed to aid recovery from the cycles of addiction and withdrawal4. The initiative was a community approach to medical treatment that was for the people and by the people.
People seek complementary modalities such as acupuncture for many reasons including cultural and social trends, economic reasons, or discontent with what western medicine has to offer1. For example, the western system offers prescription drug reliance for depression, anxiety, and chronic pain.  These types of conditions may be managed with complementary approaches, which are restorative, preventive, and non-addictive.  The good news is that a growing number of health insurance plans are beginning to cover acupuncture due to the well-documented efficacy of treatment outcomes1. Scientists continue to study acupuncture and its clinical applications.
Studies have found positive health outcomes using acupuncture for chronic pain management5,6.  In the wake of the opioid crisis, acupuncture may offer an alternative to long-term pain management, and even addiction relief, as the modality was applied in the past.  Acupuncture is also used to treat posttraumatic stress disorder7.  Similarly, acupuncture is studied as a complementary treatment for cancer symptoms: such as fatigue, hot flashes, and insomnia.
Scientific studies adhere to very specific guidelines for studying clinical interventions. This includes methods for designing the study and methods to statistically analyze the results. The mechanism through which acupuncture works remains to be determined through scientific studies. This is a delicate point because the language of the Chinese system differs vastly from that of the Allopathic model. In terms of results, one of the studies cited in this article utilized patient responses to classify whether or not the treatments were successful, and to what extent. In clinical research, this may be considered to be less reliable results than objective measurements. However, in combination with lab results, which constitute a form of objective measurement, a practitioner knows only the information that is reported by the patient. This points to the fact that personal experience is closely related with objective measurements. For example, the level to which someone is actually experiencing pain is a health outcome, and if their pain can be relieved is a successful outcome to their quality of life.
Stay tuned for the next article for a user-guide to acupuncture.
Yours in health,
Liane
Sources:
Passarelli, T. (2008). Complementary and alternative medicine in the United States. Retrieved May, 1, 2014.
White, A., & Ernst, E. (2004). A brief history of acupuncture. Rheumatology, 43(5), 662-663.
Freemont Community Acupuncture (2015). Retrieved from: http://www.fremontcommunityacupuncture.org/blog/2015/7/23/american-acupuncture-history-x
http://www.dandeliondancetheater.org/wp-content/uploads/2017/03/RadicalHistoryofAcupunctureinAmericaLargeFormat.pdf
Vickers, A. J., & Linde, K. (2014). Acupuncture for chronic pain. Jama, 311(9), 955-956.
Davis, R. T., Badger, G., Valentine, K., Cavert, A., & Coeytaux, R. R. (2018). Acupuncture for Chronic Pain in the Vermont Medicaid Population: A Prospective, Pragmatic Intervention Trial. Global advances in health and medicine, 7, 2164956118769557.
Get updates from Pixie's Pocket: brewing and herbs in your inbox:
Liane (@TheWeeklyApothecary) is a graduate of Warren Wilson College in North Carolina where she studied Biology with a focus in Botany. Prior to her formal education, she had years of experience working with plants through both urban gardening and rural organic farming. She continued to work in greenhouse maintenance through her time at Warren Wilson. As a plant enthusiast, she is self-taught, mentor lead, and workshop learned in the realm of herbalism. The Weekly Apothecary, blog and signature tea blends, is a part of Liane's work with plants. She continues to work with the healing properties of plants and to live the herbalist lifestyle in her own life and within her community of family and friends. Currently, Liane is a graduate student in Public Health to learn more about engaging communities is healthy behaviors and wellness.
"Like" The Weekly Apothecary on Facebook: https://www.facebook.com/theweeklyapothecary/
Get updates about recent blog posts and deals on handcrafted signature tea blends