Blog, Booze Recipes, Fermentation Recipes, Fermented Food, Herbal Recipes, Homebrew Recipes, Recipe Box
Vanilla Bean Chamomile Mead – One Gallon Recipe
Vanilla bean blends with chamomile beautifully - the bitter apple tones of chamomile flowers make magic with the rich, luscious aromatics of real vanilla.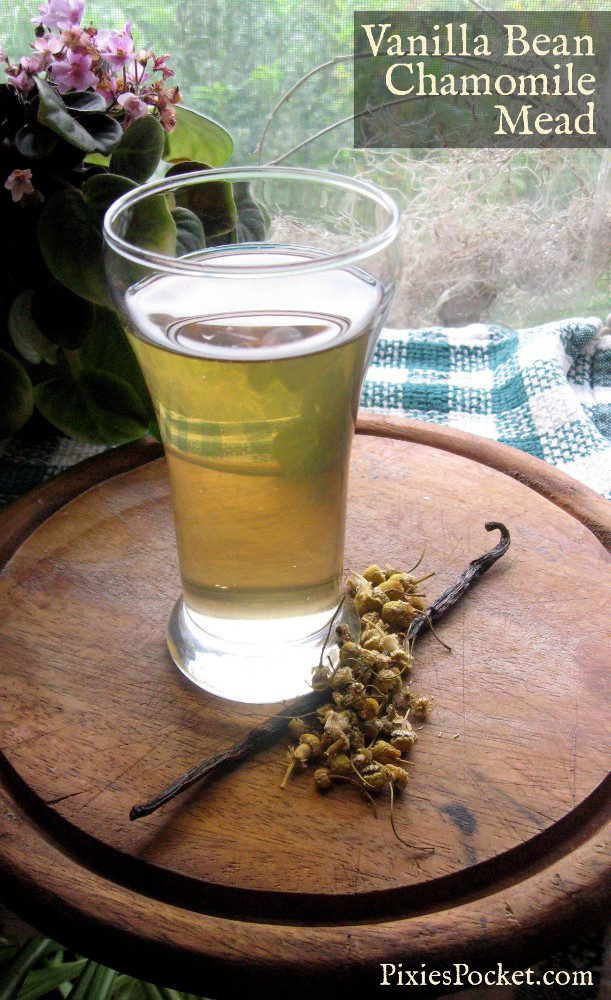 When I began making infused honey, the first and favorite of my herbal honey blends was Vanilla Bean Chamomile Honey. It was only natural that I tried using infused honey to make a small batch of mead. I'm so glad that I experimented – this rich and heart-lifting mead remains one of my most successful brews, remade as often as I can afford the vanilla beans.
This recipe assumes that you have basic brewing knowledge and equipment at hand. Need some tips to help get you started? Check out my page for brewing one-gallon batches of wine and mead here or grab a copy of my book:

---
Vanilla Bean Chamomile Mead
This recipe is for a one-gallon batch of semi-sweet to dry mead. If you want to see more weird brews, check out my brewing page and grab a copy of Artisanal Small-Batch Brewing.
Ingredients
1 gallon of water (filtered is best, or anything non-chlorinated)
3-4 lbs local honey (about 4 cups)
One heaping handful of dried Chamomile Flowers (about 1/2 cup)
One handful of chopped raisins (about 1/2 cup)
One Vanilla Bean, split
1/2 packet of yeast (champagne yeast for dry, sweet wine or mead yeast for a sweeter result or a pinch or two of bread yeast will work)
---
Procedure
Grab a large stockpot and add about 2/3 of a gallon of water. Allow it to come to a boil.
While the water is heating, use the time to sanitize your gallon carboy, airlocks, bungs, and funnel. Make sure you rinse everything well with clean water before using it.
When the water is at a steady, rolling boil, remove it from heat. Add in the raisins and chamomile and give it a stir. Cover the pot and let it sit for about fifteen minutes.
Uncover the pot, pour in the honey, and stir it until it is all mixed. Think happy thoughts and enjoy the scent! I love honey sauna time.
Using a funnel, pour the wort (flowers and all) into the sanitized gallon jug. Split the vanilla bean and drop it into the jug.
Pour in the rest of the cold filtered water to bring the liquid up to the neck of the jug to help cool it off a bit.
Once the jug has cooled to room temperature, add the yeast and top it all off with a bung and airlock.
Label the jug with the brew name and date, set it aside somewhere out of direct sunlight, and let it do the fermenting magic until it is done. Check the airlock and watch how often it bubbles. You can tell it is done when the bubbles have stopped and the mead has cleared.
Racking, Backsweetening, Bottling
When the fermentation seems complete, you can taste the mead, or just go ahead and bottle it as is. To taste the mead, remove the airlock and use a sanitized straw to taste a bit of the mead (don't backwash into the mead! Ew!)
If your mead is too dry for your tastes and needs more sweetness, make a simple syrup from either honey or sugar. Make sure the syrup is warm so that it will blend easily. Add somewhere between a quarter and a half cup of your sweetener into a clean, sanitized carboy and rack the mead over onto it.
Put a clean, sanitized airlock on the newly sweetened mead and let it sit for another week or two, just in case the sugar kick-started any residual yeasts back into gear. Once you are confident that the fermentation is done, prepare to bottle the mead.
You can use all kinds of bottles. For gallon mead batches, I tend to use a combination of Grolsch swing-top bottles and standard beer bottles and caps since I have those around. You'll get a six-pack or so of regular beer bottles.
---
Tasting
Oh. This mead is so, so very good. This combination is one of my favorites! The flavor is rich with the notes of vanilla, the chamomile flowers add a bit of fruity bitterness all their own, and they lend this mead a strong body. This is a mead that is at its best on the sweet end of the spectrum. It just rolls over the tongue like a dream…*happy sigh*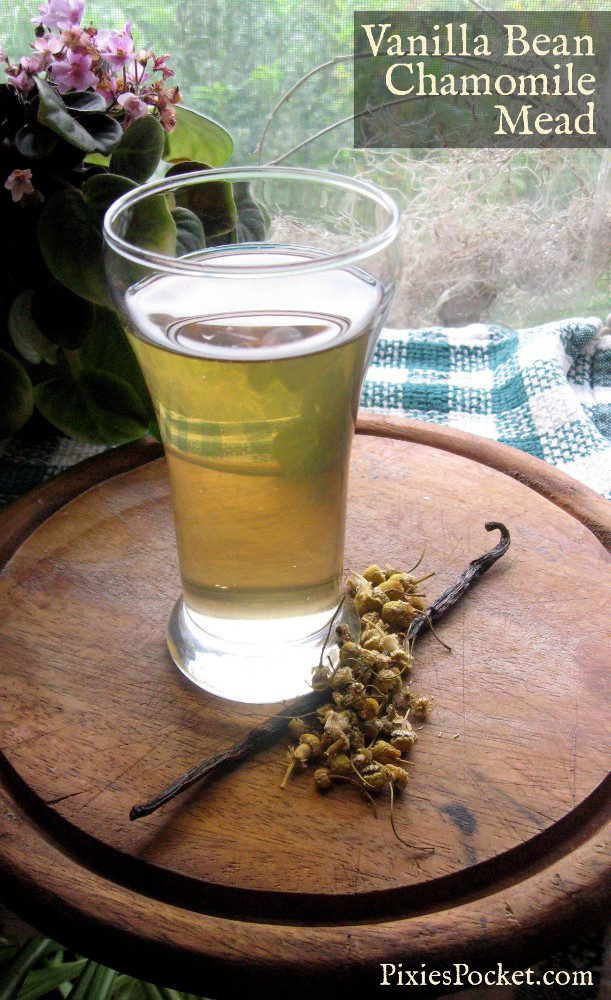 Get updates from Pixie's Pocket: brewing and herbs in your inbox:
Hi! I'm Amber Pixie, and this is my site. Enjoy the recipes, information, posts, and please feel free to message me if you have questions!