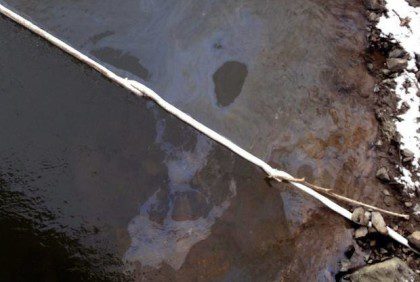 In recent weeks there have been horrific toxic spills and other environmental disasters on the east coast of the United States. First, the chemical spill in Elk River in West Virginia that is still tainting the water supplies of hundreds of thousands of people, the week-long spill that dumped 82,000 tons of arsenic containing toxic coal ash into North Carolina's Dan River, and now this: the Hominy Creek Fuel Oil Spill.
5,000 gallons of fuel oil has spilled into the Hominy Creek in Candler, North Carolina, and most of it is now in the French Broad River. The clean up response has been lackluster from those responsible, and stellar from the citizen watchdogs and environmental groups.
The Citizen Times reports that the spill was from Harrison Construction on Smokey Park Highway.
The NCDENR representative "Davidson said the liquid leaked out of an above-ground storage tank when a coupling on a pipe failed. Also contributing to the spill was the fact that a valve on a containment basin had been left open, he said…"  Asheville Citizen Times
Big thanks to
Asheville GreenWorks
and
French Broad Riverkeeper
for their constant vigilance, video footage of the spill itself, and ongoing coverage. Here's a
photo album of the spill
reaching the French Broad River from their Facebook page.  Another shout-out to Byron Ballard for keeping the people informed, riled up, and motivated. We are all asking for the assistance of local concerned citizens.
How to Help:
Monitor the booms placed in the creek. If you see any of them not containing the fuel or hanging out of the water, contact Neo Corporations Emergency Line: 1-800-222-6361.
If you see oil in the French Broad River
downstream from Hominy Creek, report it to
WNCA
 at
[email protected]
or (828) 258-8737.
Industrial leak dumps thousands of gallons of oil into Hominy Creek; 4,000 gallons may have reached French Broad
Now, this spill was a result of human error and faulty equipment.  The coal-ash spill is something different.  It was from a retired location whose coal-ash slurries had never been cleaned up, even though environmental groups have been fighting for them to take care of before something like this happened.  This was the direct result of Duke/Progress Energy's avoidance of their responsibility. Did I mention that the North Carolina governor, Pat McCrory, is a pro-business advocate who not only worked at Duke for 28 years but is a stockholder of at least $10k? And that Duke donated over one million to his campaign? And that he's appointed other former Duke employees to important posts – including the North Carolina Department of Environment and Natural Resources (DENR).
Read more from Business Week about how his regulators have regularly been blocking environmental groups and tried to hide the impact of the coal ash pollution.
See the details that Rachel Maddow has exposed about McCrory's loyalties.
Hi! I'm Amber Pixie, and this is my site. Enjoy the recipes, information, posts, and please feel free to message me if you have questions!