Chapter 1: The Bite So, I got tick-bitten in early April while camping at a festival.  On a lovely Saturday morning, I was chased down and slain by a few young knights and princesses armed with wooden swords.  Fully into the play, I died quite dramatically and rolled on the ground in defeat a few…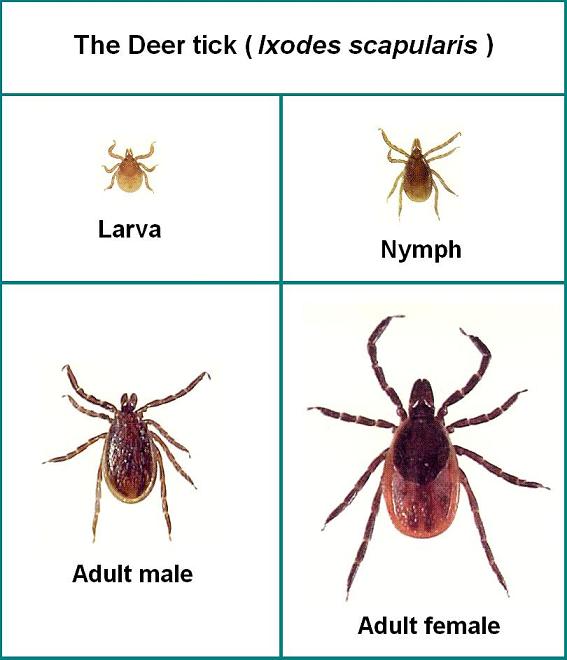 Chapter 1: The Bite
So, I got tick-bitten in early April while camping at a festival.  On a lovely Saturday morning, I was chased down and slain by a few young knights and princesses armed with wooden swords.  Fully into the play, I died quite dramatically and rolled on the ground in defeat a few times, as is proper.
Nearly twelve hours later, the day was finally done and I was happily bound for bed.  I pulled off my tight bodice and with relief, I took a deep breath and stretched my lungs. While I was rubbing my poor, seamed skin, I felt a bump on my abdomen. I called my husband over, and under the dim light of our camp lanterns, we found a total of three ticks latched onto my body. There was one adult tick on my lower back, right near my tailbone. There was another adult tick found on my abdomen, and there was one teeny, tiny, black speck of a tick right on my sternum, in the middle of my heart chakra. That one concerned me immediately, as I recalled that larva or nymph ticks are the most likely to transmit diseases to their hosts. The ticks could have been attached for most of the day, as far as I know – possibly more than 12 hours. We got them pulled off, treated the spots with alcohol, and then hydrocortisone cream, and collapsed into bed with exhaustion.
The next day was a busy one – we luckily managed to get our truck packed up just before a torrential rainstorm hit, but I felt a bit out-of-sorts and ill. We drove the three hours or so home very slowly and carefully. Once settled into our dry, warm house, I got ready for my shower and noticed that the bite area at my heart had developed a ring around it.
Now…I have studied Lyme quite a bit, enough to know what I was seeing. Not every time, but quite often, Lyme will show itself first as a ring around the bite. The ring is generally red, but mine was white. I called Eric over, and he confirmed that he saw it, too. We couldn't manage to get a good picture of it, though. I made an appointment with my doctor for the following Wednesday.
Next to come…western medicine, herbalism, treatment options, antibiotics, and more.
Get updates from Pixie's Pocket: brewing and herbs in your inbox:
Hi! I'm Amber Pixie, and this is my site. Enjoy the recipes, information, posts, and please feel free to message me if you have questions!