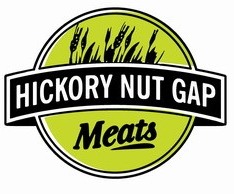 Pepperoni.  Hot Sopressata.  Sweet Sopressata.  I keep trying to get a picture of these amazing meats for you all, but it's been impossible.
Every Saturday, I go to the Woodfin YMCA market.  Every Saturday, I come home with some cured meat product or another from Hickory Nut Gap, and place it on the counter, and BOOM!  It's gone!  Within hours, it has been devoured, nommed and thoroughly enjoyed by everyone in my home.
This family farm has branched out beyond their own acreage and created a partnership with other meat producers from up and down the east coast.  They all agree to the same excellent standards of animal rearing and butchering, and the quality shows in their final products.
From their page: "Our mission is to connect sustainable agriculture practices, our family history, and our customers by sharing the family farm experience and serving as an example of healthy land stewardship while providing high quality ethically raised meats.  At Hickory Nut Gap Farm you will find animals raised in their natural environment. Pigs outdoors, cows on pasture eating grass and clover, multiple species grazing together, drinking fresh spring water and living the good life."
Since I can rant and rave and praise but can't get a picture, I am happy to let you know that you can purchase their products online! They also supply many Asheville restaurants with their fabulous food.
(March 23) Update from Hickory Nut Gap Meats:  "We are looking forward to our upcoming market season, you'll be able to find us at the North Asheville Tailgate Market, Asheville City Market, and West Asheville Tailgate Market. You can also come out to the Farm Store in Fairview where we house our meats, eggs, berries, and dozens of other locally made products."
Hi! I'm Amber Pixie, and this is my site. Enjoy the recipes, information, posts, and please feel free to message me if you have questions!