Blog, Booze Recipes, Canning & Preserving, Recipe Box, Sweet Stuff Recipes
Pear Cordial: DIY Delicious Booze!
Turn fresh, ripe pears into a liqueur with the magic of sugar, booze, and time. It's just that easy!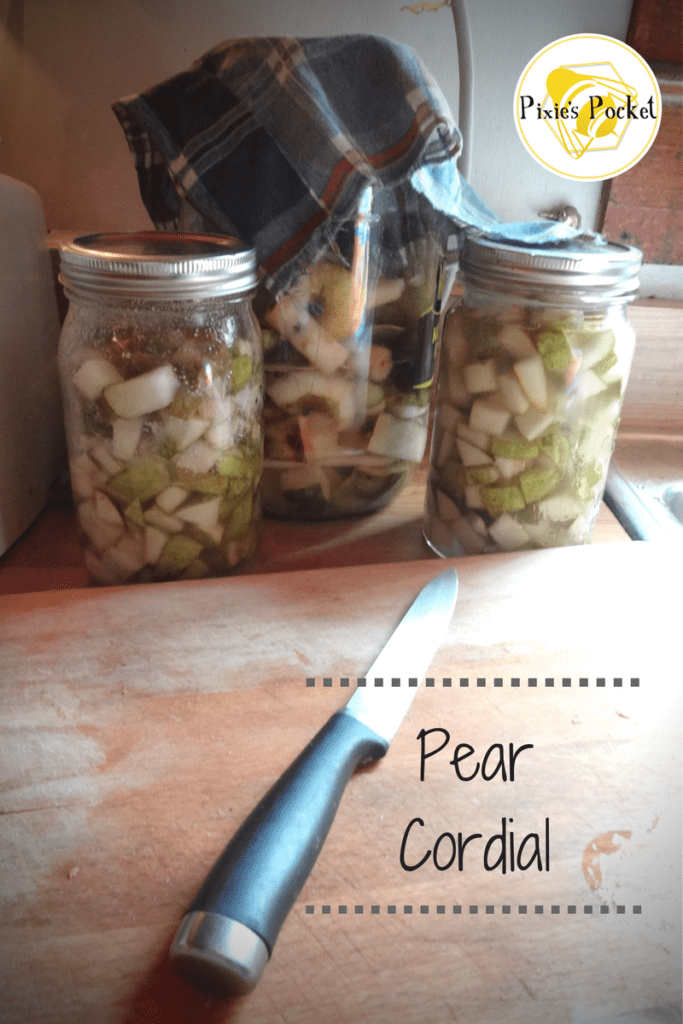 Earlier this fall, a dear friend of mine became a homeowner. Her new bit o'earth is a lovely place – it boasts an old flower garden, a bountiful floor of lemon balm, and three grand pear trees! As she was in the middle of renovations and moving in, most of the pears were going to waste and to wasps as they fell on the ground.
I begged the assistance of the 11-year old who was hanging out with me, and together we gleaned three or four plastic bags full of ripe pears!
Because I am a boozy pixie, the very first thing that I made with those pears was a lovely cordial. My resident taste-tester promises that this is the best cordial that I've made yet! Well. Isn't that sweet?

---
Print
Pear Cordial Recipe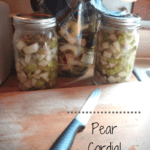 Pear + Booze + Sugar = Heaven!  Turn fresh pears into a tasty tipple that will keep you delighted all year long.
Ingredients
Pears
Sugar
Vodka (or brandy, or whiskey, or whatever booze you prefer!)
Instructions
First, chop the pears. I left the skin on mine, as it gives a nice little bit of bitterness and lends itself to a fuller flavored cordial. Set aside the cores and discarded parts to make scrap vinegar.
Jar the pears. Add a handful of chopped pears to a large mason jar. Cover that with a teaspoon of sugar. Add more pears and sugar. Repeat these layers until the jar is full. Or two jars. However much you want to make is entirely up to you!
Put a lid on the jars and let them sit for a while, about 30 minutes to an hour. The sugar pulls the juice out of the fruit, and the overall effect on the richness of the cordial's flavor is worth the extra wait.
Check the juice levels in the jars. Look at the jar and see how much juice is in it. If it is more than a quarter full of juice, pour some off. If there is too much sweet pear juice in the jar, it has a chance of fermenting in the jar. That can make a fizzy liqueur at best or an exploding jar at worst!
Fill the jars with your booze of choice. Fill the rest of the jar with your alcohol. I prefer using a decent quality vodka so that the main flavor is that of the fruit, not the alcohol. Label your jars with the contents and date and stash it in a dark, cool place. I started the cordials in mid-August and strained them in the second week of October.
Strain the cordial. Shake the jar up before you strain the cordial to make sure all of the sugar has dissolved completely. Use muslin, cheesecloth, or a mesh strainer to keep out the pear chunks.
Bottle your cordial. Put your tasty cordial in clean, sanitized bottles or jars. I tend to use old booze bottles for mine and save the cute jars or bottles for gifts.
Label them well, and give them as gifts (or hoard them like you know you want to, you booze dragon, you!). A lovely bottle of this cordial was given as a housewarming gift to my dear friend who told me that I can return every year to glean as many pears as I wish!
Get updates from Pixie's Pocket: brewing and herbs in your inbox:
Hi! I'm Amber Pixie, and this is my site. Enjoy the recipes, information, posts, and please feel free to message me if you have questions!