Blog, Book Reviews, Promos
Things I Love: Herbal Zines and Honest Communication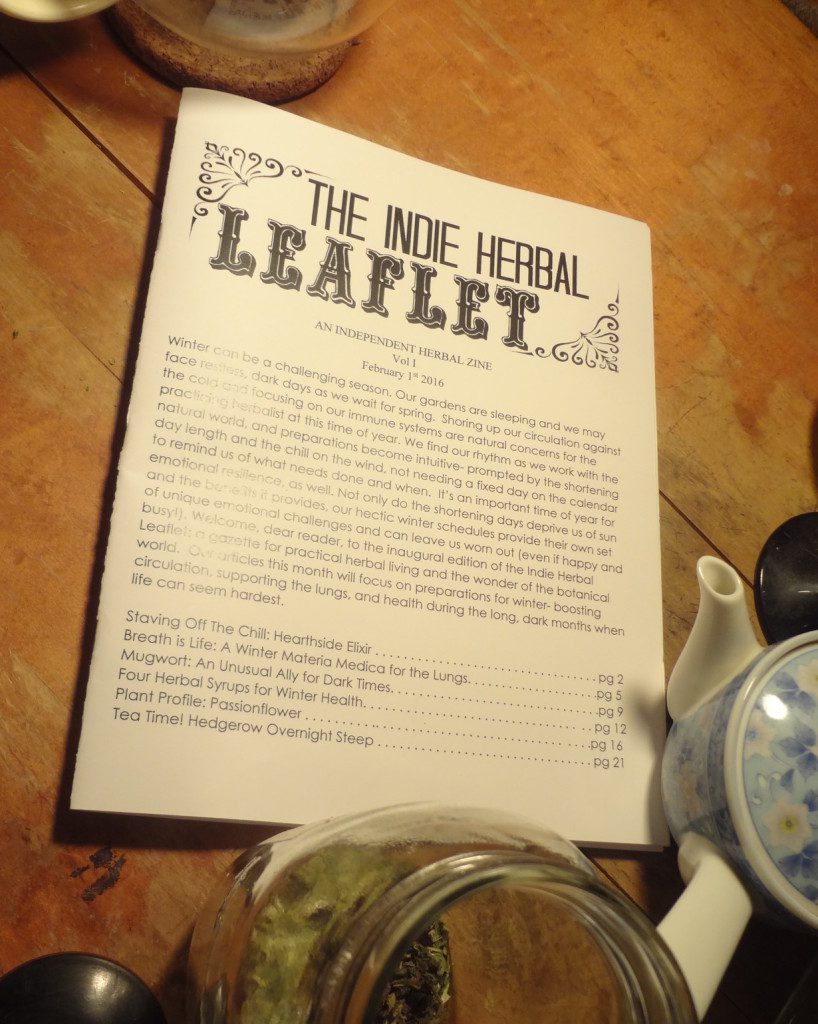 UGH. Has February been dragging you down as much as it has me? I've been accomplishing many things and slogging through but lordy, has it been an uphill battle to keep motivated! What do you do to keep yourself inspired and moving during your energetic lows?
---
In other news, I recently started following Agatha, the Indie Herbalist.
I was intrigued when I noticed Agatha was supporting her site using Patreon (She no longer has a Patreon). My mind has been on the ideas of crowdfunding, volunteering, and other ways of supporting people whose work you enjoy. I finished reading Amanda Palmer's The Art of Asking this month and it really helped me wrap my head around the relationship between giving and receiving, offering and asking. Since I already had a Patreon account where I donate a buck or two every month to artists that I enjoy, I added my support to The Indie Herbalist. In return, I get a 'ZINE!
I haven't seen a Zine since high school in the mumble-nineties-mumble. Some of my punkish type friends would slap some together and borrow the copier library to print them out and hand out to anyone who wanted one…cartoons, margin doodles, fake ads…they were a hoot.
Agatha's "The Indie Herbal Leaflet" is much tidier than those scribbled punk zines, but the spirit of grassroots movements is still reflected therein. Her herbal zine has articles, art, work pages, and more. I look forward to seeing more of what Agatha creates!
---
Sooo, some rather odd news headlines broke out and "trended" on Facebook and Twitter recently:
"Hitler 'had tiny deformed penis' as well as just one testicle, historians claim"
Enter the jokes about "well, of course, he committed genocide, he had a tiny penis!" and similar slams on genital size.
What people probably didn't bother to learn about was hypospadias, the condition that caused his issues. Now, I don't care if you joke on Hitler. But hypospadias is waaaay more common than you realize and affects men in different ways. Why hate on 1 out of every 200 men? Why joke on a core issue that can't be helped?
I wrote an article about it to share on Medium. I also posted about it on Facebook, which resulted in one person messaging me about how tasteless it was and to remove it. I politely let them know that I will not remove it, and will likely continue to speak openly and frankly about bodies of all shapes and sizes.
And that's the truth. And a promise.
---
Chestnut School of Herbs Coupon
Just a reminder – March 7th is the last day for you to use my special coupon code to save 10% off of the Herbal Medicine Making Course from Chestnut School of Herbal Medicine! Use PixiesPocket in the shopping cart when you check out.
---
You might enjoy these things:
My YouTube channel! Now with more videos! Watch me act like a goof for your amusement and edification!
Enjoy this video…the Gaeilge (Irish Language) version of "The Good Old Way"
Hi! I'm Amber Pixie, and this is my site. Enjoy the recipes, information, posts, and please feel free to message me if you have questions!