"Let's Talk About" Series, Asheville, Blog, Herbalism, Natural Beauty, Spirit
Yoni steaming is often called an old tradition by some and reviled as useless and even dangerous by others. I've found it to be a gentle experience when done mindfully.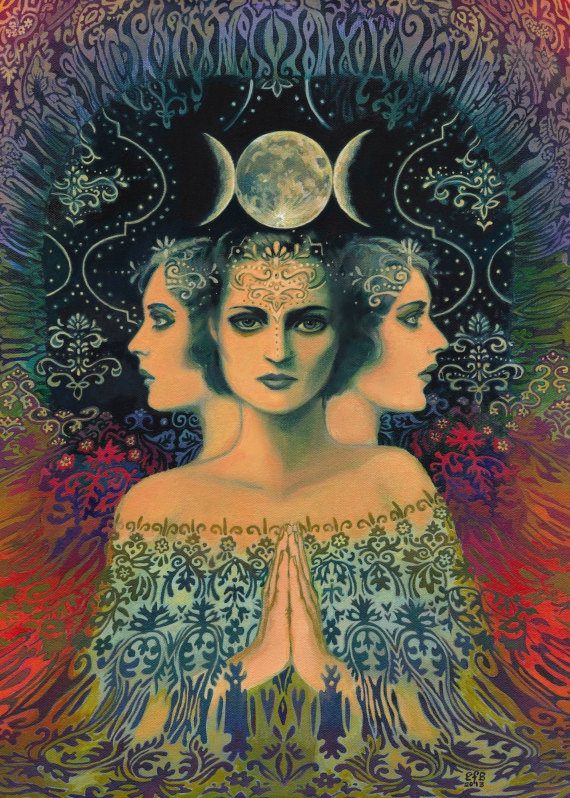 ---
Start with part one: Yoni Steaming – An Act of Self Love
After making my first round of mental preparations, I put the whole idea "yoni steam" idea aside for a few days until my order from Shakti Studios arrived. It was packaged like it was a gift meant for a queen or a temple priestess, neither of which felt like me at the moment.
Nervousness set in and I started to list of all the reasons that I shouldn't rush into trying this strange new ritual. Plenty of reasons came to mind. I wanted to find the perfect day to try yoni steaming. I decided that I needed at least two hours of free time to dedicate to myself. Two hours would give me plenty of time to prepare the tea blend, set space, get my head straight, and steam for a while. I also wanted to give myself time to sit around afterward and relax. Maybe meditate or journal? This is special, sacred stuff here. Not just "any" day would do.
What was I going to do? Do you know how hard it is to allow yourself two hours of free time? I kept thinking of evenings after work, but no. Too hard to plan two whole empty hours around dinner and other household responsibilities. Maybe a weekend coming up? But no, I need to spend more time with my love. Shopping. Housework. Hobbies distracted me and ate up my time while the herb blend sat there, waiting patiently for me.
It finally dawned on me and I realized the real problem: I was avoiding the chance to heal myself. This whole steaming situation was out of my comfort zone. Trying a yoni steam was pushing my boundaries in a way that felt significant…and that made me feel scared.
Scared?
Well, phunk dat.
If my inner goddess needs venerating, I had best do this right.
I decided that if I was fighting myself so hard that there must be a reason. What was I so afraid of? Fear can be a terrible beast, but more often it is a tiny little quibbling thing that nibbles on your nerves. It's like a constant voice of concern and dissent in the back of your mind.
Instead of just giving into the fear and doubt, I analyzed them. Were there true causes for concern? Potential damage to my body? There was no danger that I could see. All the fear was false, merely a veil I needed to push through. I summoned up my Patronus and banished that beastie back into the shadows.
Hey, look! I have learned that my inner goddess can stand up to fear. This is already a good experience.
How to do your DIY Yoni Steam
Some precautions:
do not steam if you are menstruating
do not steam if you are pregnant
do not steam if you have an infection or open wounds (heat = inflammation)
do not steam if you have an IUD and remove your piercings (metal + heat = angry bits)
do not burn yourself! If the steam is too hot, get up and move! This should be pleasant, not painful.
There. Good. Keep yourself safe.
Here are the basics of what you need for a DIY yoni steam:
Here's the deal with the throne. All you need is a comfortable place to sit under which you can set a bowl of hot liquid. There's a ton of different styles out there, just find one that works for you!
My throne is a low-sitting beach chair with the center strip cut out. It's easy to set up, cover with a few towels or blankets to make it nice, and comfortable to set in for a good long time. Here are a few more examples of steaming stools:
Here's the quick version of the yoni steam instructions:
Boil water. Pour in herbs. Remove from heat and put a lid on the pot.
10-15 minutes later, pour the tea into bowl/crockpot/bucket
Put the hot tea container under the chair
Sit on the chair and wrap yourself up in blankets from the waist down to keep the heat contained.
Sit for as long as you can, and give yourself time afterward to rest for a bit and cool off.
That's sufficient for a decent steam. While it sounds nice, it also covers only the basic experience. Rather than simple and clinical, why not be a bit more decadent and treat yourself well? What does your inner goddess need to feel worshiped and validated?
Setting Sacred Space
Here's a few things to consider to help make your you-time a little extra special. These options might now work for everyone, but hopefully, it will give you some ideas.
Talk to your household and let them know that you need some alone-time without interruptions (I can hear all the moms laughing at me now) or just pretend you're in the shower and can't be bothered!
Turn off your phone!
Tidy up the room where you plan on steaming. Make it nice for yourself, just like you would do if you had a guest coming to stay with you.
Brew up an herbal infusion or cup of tea to drink while you are steaming.
Make sure to have water nearby
Grab a book or magazine to read, something that you really enjoy.
Set up some mood music if you care to. I enjoy Glen Valez: Rhythms of the Chakras or Dead Can Dance.
Do you like to pamper yourself? This is a great time to do a honey facial or other DIY spa treatments.
Use it for mediation time – breathe deep and let the thoughts just flow through your mind.
Have a notebook and pen nearby in case you feel inspired.
The first time I steamed, I didn't write, read, or do much of anything other than sit there and breathe. I didn't feel anything earth-shattering, nor did the voice of the primal goddess rise up and tell me I was doing a good job. I mostly just felt my tired body relax into the moment. It had been a really long time since I just *sat* and *existed* without any goals.
The second time I did a DIY yoni steam, I was much more comfortable from the onset. I knew what I was getting myself into and was able to make my space a little more comfortable. My brain happened to be yammering in my head nonstop that day, and so I found more peace through writing out my doubts and fears instead of meditating. Below is an example of some of my free-writing and thoughts that surfaced, the most important crux of my experience.
---
Why am I doing this weird hippie thing to my vagina?
fighting a urinary tract infection
working to balance candida overgrowth
irregular moon cycles (my whole life)
a busy, busy brain
anxiety and stress
because I don't want to…
Ah. That's the ticket. "Because I don't want to." I'm fighting self care.
There isn't a single part of the yoni steaming process that is unpleasant or physically uncomfortable. The fight, the rebellion against it is due to the feelings that it brings up, or a fear that people will laugh at you if they know.
---
So, every time I steam, I have a different experience. It feels like slides flickering on a screen with a new image to look upon each time. A new lesson each session. Pages of my life are handed to me with examples of where my fears originated so that I can acknowledge them and move past them.
That's why I try to make it a sacred and beautiful experience. Giving yourself a space for meditation and quiet time are probably just as important as the steaming itself. The act of taking time to honor your body is a powerful one – especially a part of the body that harbors shame, disgust, and fear. Why fear your own body?
That being said, don't take yourself too seriously. It's ok to laugh at yourself, so long as you aren't being a big, mean bully. Bodies are funny, remember? And there is a lot of dangerous BS out there packaged as self-care. Do you want a giggle? Just check out this relevant video from the Asheville-based web series "Transplanting."
Maeve Joins a Womyn's Circle: Transplanting – Episode 2 from Transplanting Series on Vimeo.
Resources:
ShaktiStudios: tea blends, steaming blends, yoni eggs, red tent supplies, goddess jewelry and more!
VibrantSouls: tea blends, steaming stools, guided meditations, herbal blends for steaming
Chestnut School of Herbal Medicine: take charge of your care by learning how to supplement your health with syrups, teas, and other herbal medicines.
Yoni Steam Institute: (warning-autoplays music, but it's Nina Simone, so they are forgiven) yoni steam blends, yoni eggs, yoni divination, and lingam jewelry (for the sacred phallus)
Holy Sponge: lunar calendars, sea sponges, oil, salves, and pussy chalices
Goddess: Calm in Chaos
Get updates from Pixie's Pocket: brewing and herbs in your inbox:
Hi! I'm Amber Pixie, and this is my site. Enjoy the recipes, information, posts, and please feel free to message me if you have questions!