Book To Buy: 21st Century Herbalists by Jesse Wolf Hardin
21st Century Herbalists by Jesse Wolf Hardin "Read the stories of "rock star" herbalists in this eclectic collection of interviews. Jesse Wolf Hardin presents intimate conversations with 21 of the most intriguing herbalists and foragers of the 21st Century. Properly subtitled "Rock-Stars, Radicals & Root Doctors", this book is filled with previously unshared stories, underutilized…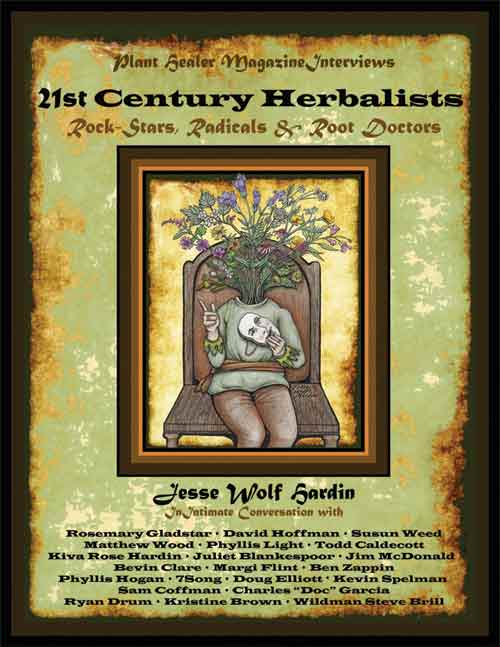 21st Century Herbalists by Jesse Wolf Hardin
"Read the stories of "rock star" herbalists in this eclectic collection of interviews. Jesse Wolf Hardin presents intimate conversations with 21 of the most intriguing herbalists and foragers of the 21st Century. Properly subtitled "Rock-Stars, Radicals & Root Doctors", this book is filled with previously unshared stories, underutilized herbs, herbal healing traditions, and inspiring advise from a collection of well-known herbalists. Including Rosemary Gladstar, Susun Weed, David Hoffman, 7Song, Ryan Drum, Kiva Rose Hardin, and many more!"

Okay, folks, I have to tell you that the Plant Herbal Magazine and all the associated festivals, websites, and publications are some of my favorite resources for staying rooted in the trends of current herbalism and folk medicine. As of this writing in July 2013, their magazine is published four times a year, and each issue is over 200 pages! A subscription also allows you to download ancillary material, video, audio, art, and more. They also provide options for digital or physical subscriptions for each of their books and magazines!
21st Century Herbalists was written by Jesse Wolf Hardin, and it consists of interviews, anecdotes, and stories from modern herbalists. Some of the names listed are herbalists whose philosophies I really connect with, such as Matthew Wood, Susun Weed, Rosemary Gladstar, Kiva Rose Hardin, and Steve Brill.

I'm officially adding this to my "must get" list, along with another subscription to Plant Herbal Magazine. I feel like I am truly missing out on an awesome resource if I do not! If you are interested in the current resurgence of folk medicine and herbalism, I think that you would likely enjoy this publication as well.
Get updates from Pixie's Pocket: brewing and herbs in your inbox:
Hi! I'm Amber Pixie, and this is my site. Enjoy the recipes, information, posts, and please feel free to message me if you have questions!