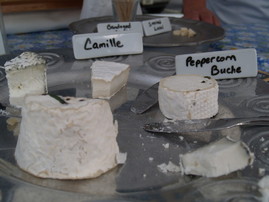 Now, I know that there are people out there who just do not like goat cheese, no matter what. Let it be known that I am NOT one of those people!
I adore chévre, ever since I worked behind the cheese counter at Integral Yoga Natural Foods in Charlottesville, Virginia. Back then, I tried my first taste with a wrinkled nose and look of displeasure even before it touched my tongue…but it wasn't so bad! In fact, it was quite good! And it's only become a stronger addiction since then.
And now I'm in Western North Carolina…a wonderful place with many small farms creating fabulous cheeses. One of my favorites is Spinning Spider Creamery.
From the fresh creamy chévre to their aged, firm varieties, I've enjoyed every bite of cheese that I've had from Spinning Spider Creamery.
The creamery is run by the Owen family. They are a dedicated lot, from the eldest to the youngest members involved in the raising, milking, and cheese-making process on their Madison County Farm. The cheese is made with love and focus, and you can tell it in the quality.
Visit their site to see a list of shops that carry their cheese, and check the sidebar for links to their Farm Markets and other appearances! They also sell Saanen and Alpine goats, too.
Hi! I'm Amber Pixie, and this is my site. Enjoy the recipes, information, posts, and please feel free to message me if you have questions!