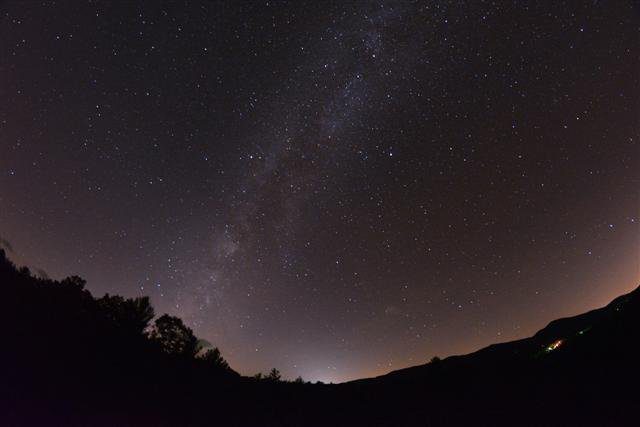 Have you ever considered how important darkness is?
For centuries upon centuries, our lives revolved around the natural light provided by our sun and moon. We rose when the sun beamed it's light onto our sleeping faces, closed our doors and sat around the hearth fire when the night descended.  The day held work and action, the night offered rest, solitude, and fear. What is in the darkness? There could be anything. Our fears of predators, ghosts, goblins, things that stalk in the shadows are a legacy of our species' evolution and all of our centuries spent without consistent light during the night.
Putting our active imaginations aside, let us consider what else the dark of night offers. The darker the night, the better and deeper the sleep – for us, anyways. Outside in the darkness, there is a waking world, active and thriving. The things that go bump in the night could be something spooky, but odds are they are just a gnawing rodent, a slinking fox, a hungry coyote, owls in the trees and barn eaves.
And then there is the night sky. The black velvet of the sky is pricked with tiny holes that allow the light of the heavens to come beaming through. The Milky Way is a visible smear across the canvas of the heavens, and constellations wind through the steps of their slow dance night after night.
As industrialization and electric power spread through the world and became accessible to most people, the night sky has gotten dimmer and dimmer. I thought I knew what the night sky looked like until I moved to the country, away from the sprawling metropolis of concrete and lighted roadways that I called home. My awe when I gazed up at the night sky after we moved to Western North Carolina taught me otherwise.
Now, a site in Burnsville, NC is being recognized as the first International Dark Sky Park in the southeastern United States.
The Appalachian Mountains of North Carolina have stood as silent witnesses to the un-interrupted, nightly rain of starlight for nearly a half-billion years, but artificial light now threatens this nightly show. In honor of notable local efforts to preserve the natural nighttime landscape of western North Carolina, the International Dark-Sky Association (IDA) announced today it has designated the first International Dark Sky Park in the southeastern United States…The Blue Ridge Observatory and Star Park is situated six miles west of Spruce Pine. (Source: OurLocalCommunityOnline.com)
You can learn more about the night sky and how to help slow down light pollution at the official home of the International Dark-Sky Association.  For our part, we annoyed our neighbors when we had the power company turn off the severe, obnoxious light pole that lived in our yard that blazed every night with the fury of a dying sun. It was totally worth it. Now we have bats, we can see the lightning bugs that glow all summer, and we have native life tromping through our yard again, and oh, the stars in the sky…*sigh*
---
Other things that you might enjoy:
Here's an amazing recipe concept that is new to me: Fruit Sugars. I'm not talking about fructose or anything like that – I mean fruit-infused sugar!  Joy the Baker gives a lovely guide on how to make your own, and offers ideas on how to use them in baking and beyond! Joy the Baker is also the genius behind the book "Homemade Decadence" – if you like recipes with too much butter like I do, you'll love her book!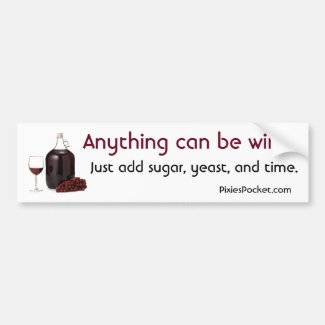 Anything Can Be Wine! Car Bumper Sticker
by
ThePixiesPocket
Make your own
personalised bumper sticker
on zazzle.
Staying Healthy this Winter: Rosalee de la Forȇt of "Herbs with Rosalee" is a great herbalist and teacher. She's offering a free webinar on this coming Tuesday, October 20th, with a focus on how to support your immune system this fall and winter with herbal allies! As she says, "My own experiences have made me passionate about helping others to radically support their own immune systems for better health whether that means fewer colds, decreased seasonal allergies and even addressing their autoimmunity concerns."
It is free, but to save your seat, you must register at this link: https://attendee.gotowebinar.com/register/696818062982713602. 
Even if you can't make it, register so that you can access the recorded version later!
Hi! I'm Amber Pixie, and this is my site. Enjoy the recipes, information, posts, and please feel free to message me if you have questions!