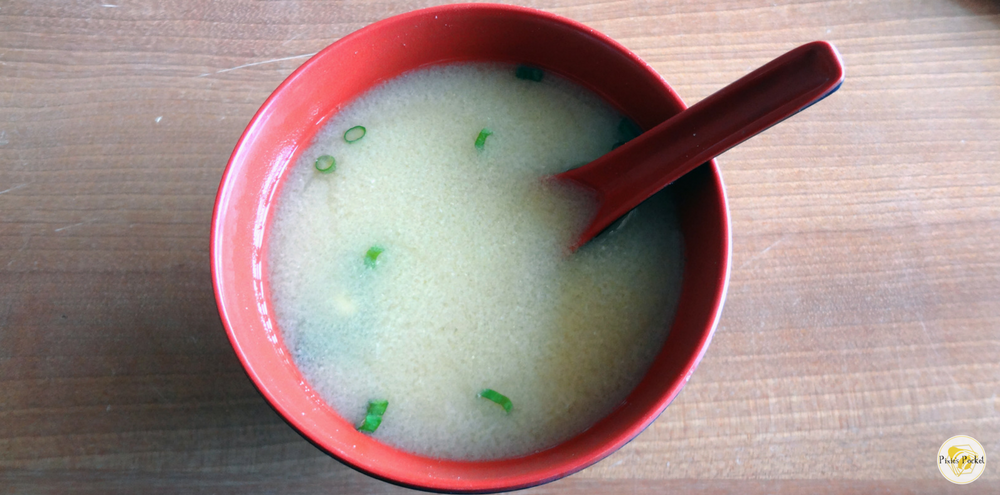 Miso is delicious, nutritious, and very nourishing. In a pinch, I'll make do with a dried powder packet to make a cup on the go, but nothing compares to a bowl of real miso made from scratch.
---
Perfect Miso Soup
2 cups dashi (any broth will do, but dashi is the best)
1/4 block of tofu (silken or firm)
scallions (optional)
a pinch of dried wakame
2 tablespoons miso paste (any type, but a blend of light and dark makes the most well-rounded flavor)
Reconstitute the wakame in water for about ten minutes, then strain.
Heat most of the dashi to a low simmer, reserving a half cup.
Add the cubed tofu and wakame to the dashi and let it simmer for a few minutes.
Turn off the heat and let the soup rest.
Put the miso paste in a mug, and ladle the half cup of reserved dashi over it. Mix it well until no lumps remain.
Pour the cup of mixed miso paste mix into the hot soup and stir.
Serve immediately!
Let's talk about some of those ingredients individually:
Dashi
Dashi is a simple stock made from three ingredients: water, bonito, and kombu. Bonito is basically flakes of dried bonito fish, and Kombu is a kelp. If you're vegetarian or vegan, you can use shiitake instead of bonito. TheKitchn has a guide for making dashi from scratch. For a quick and easy dashi, I tend to use premade stock granules like Hondashi. They are full of delicious MSG. MMMmmm. I'm shameful, I know.
Wakame
Wakame is an edible seaweed. It is an invasive plant that has been farmed for many years. It is a high source of Omega-3 fatty acid and so it is used in vegetarian and macrobiotic diets as well as in beauty products. Crumble your wakame into small flakes before you soak it, especially if it comes in sheets. Wakame expands in water! You don't want more than a pinch or two per serving.
Miso Paste
There is such variance in miso paste! You can find miso made with chickpeas instead of soybeans. White miso, red miso, brown rice miso, all lined up on a shelf in the store. While they are all made using the same basic process, they end up being quite different in color and flavor.
I have a strong brand preference when it comes to miso paste. I've used Miso Master Miso for many years now. The American Miso Co. is located here in North Carolina, within an hour of my home! I got to tour their facility and see the miso-making process up close. (post coming soon!)